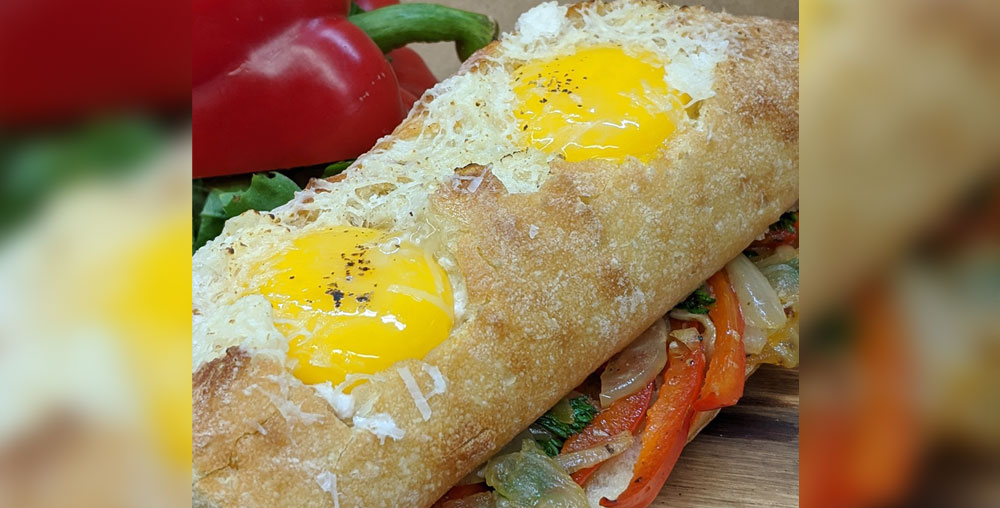 Italian inspiration meets fresh, Ontario cheese and eggs in a new Breakfast Egg Sandwich. One that is sure to make mornings egg-citing again.
Servings: 1
Print This Recipe
Ingredients
1/3 French baguette, whole
50 g Salted Ontario butter, room temperature
1/3 Vidalia onion, thinly sliced
1/3 Red bell pepper, thinly sliced
2 sprigs Fresh thyme
2 Conestoga Farms Free Run Omega-3 Eggs
50 g Ontario gouda, finely grated
2 pieces Spanish Serrano ham or Italian prosciutto, thinly sliced
2 tsps Olive oil
Salt and pepper, to taste
Instructions:
Preheat oven to 350 degrees.
In a small pan, add olive oil and 25 g of butter on medium heat.
Add onions and red bell pepper and slowly stir together. Once incorporated, add two pinches of salt and three turns from your pepper mill. Stir gently together for about three to four minutes or until onions and peppers start to get caramelized.
Butterfly the baguette in half and create two holes on the top side. Make sure they are big enough for the egg yolk to fit. Slather each side of baguette with remaining butter.
Scatter the peppers and onions on the bottom half of baguette and top with ham or prosciutto.
Place sandwich on baking sheet.
Put top half of baguette back on to the bottom half to create your sandwich.
Crack Conestoga Farms Free Run Omega-3 Eggs and place each into the holes in the baguette.
Place baking sheet in the oven for about 10 minutes or until egg yolk reaches a sunny side up consistency.
Take the sandwich out of the oven and top with grated Ontario gouda and a pinch of salt and pepper on the yolks.
Plate and enjoy!