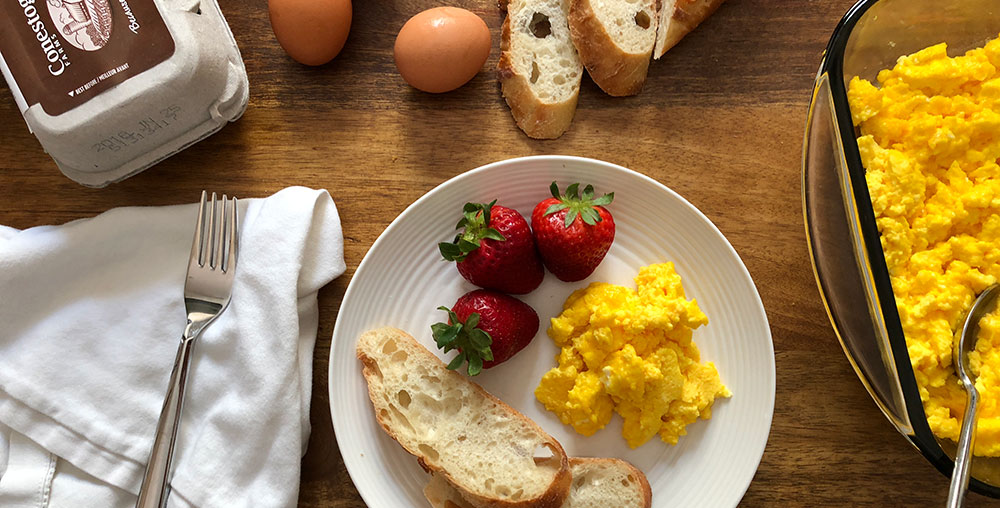 Cheesy. Buttery. Fluffy. Every time! Follow Erin MacGregor's – RD from How To Eat – recipe for multi-serving-ready Baked Cheesy Scrambled Eggs, complete with a warm and fluffy guarantee! Made with Ontario-laid Conestoga Farms Omega-3 Eggs for that extra kick of essential nutrients. Time to get cracking!
Serves: 8
Prep time: 5 minutes
Cook time: 20 minutes
Ingredients
12 Conestoga Farms Free Run Omega-3 Eggs
1 cup milk
1/3 cup unsalted butter, melted
½ tsp salt
1 cup Cheddar cheese, grated (about 115g)
Instructions:
Preheat oven to 350F.
In a large bowl, whisk together eggs, milk, butter and salt until well combined. Stir in cheese.
Transfer egg mixture to a 9" x 13" baking dish and bake for 20 minutes, stirring gently every 5 minutes, until eggs are just set.  If planning on reheating the eggs before serving, bake for a minute or two less (they will be slightly looser).
Serve directly from the baking dish or transfer to a serving dish and serve immediately. If reheating, microwave on medium-low power until just heated through, 1-2 minutes. Alternatively, bake at 350F for 5 minutes.