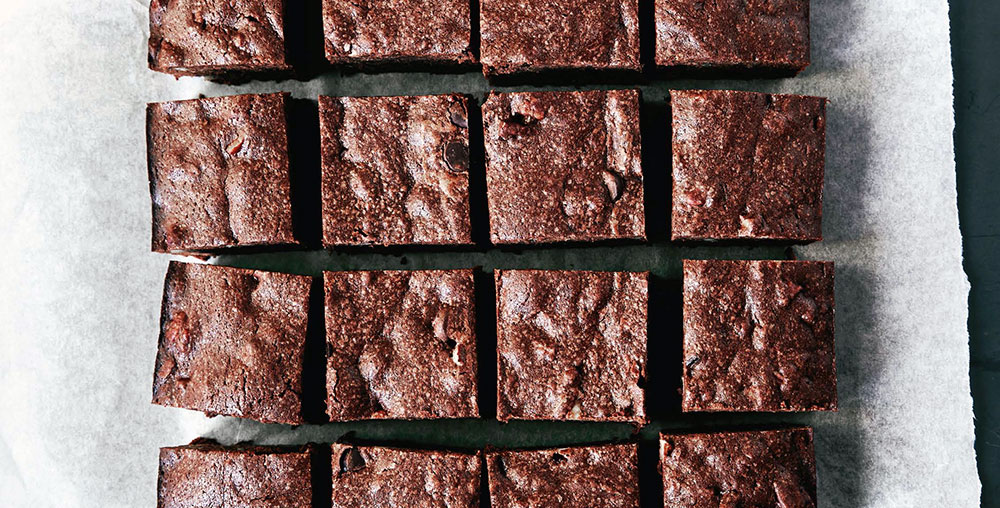 From Claire Tansey's "Uncomplicated Cookbook" comes an eggcellent new brownie recipe to keep your tastebuds happy throughout the winter months. Made from chocolate, coffee powder, pecans and fresh, Ontario-laid Conestoga Farms Eggs, all it takes is one pot! 
Yield: 16 Servings
Ingredients
4 squares (4 ounces/115g) of unsweetened chocolate
¾ cup (180g) butter
1 ¼ cups (260g) granulated sugar
3 Conestoga Farms Free Range Eggs
2 teaspoons pure vanilla extract
1 teaspoon of instant coffee powder (optional)
1 cup (150 g) of all-purpose flour
1/8 teaspoon salt
1 cup (100g) chopped toasted pecans
½ cup (90g) semi-sweet or dark chocolate chips
Instructions:
Preheat the oven to 350°F. Spray an 8-inch square baking dish with non-stick baking spray.
Melt the chocolate and butter together in a medium pot over low heat. Stir in the sugar until it has mostly dissolved, about 3 minutes. Remove from the heat and let cool 10 minutes.
Add the eggs, vanilla and coffee powder (if using) to the pot and whisk to combine. Add the flour and salt and stir well, making sure to get into the edges of the pot. Stir in the pecans and chocolate chips until just combined.
Scrape the batter into the prepared dish. Bake 30 to 35 minutes or until the top is firm and a cake tester comes out almost but not fully clean—these are fudgy brownies, so it should still look a bit damp. Let cool in the dish on a rack 10 minutes, then flip out of the dish to cool completely.
Make ahead: These last well for up to 3 days, wrapped with lots of plastic wrap and kept at room temperature.
Switch it up: The nuts and chocolate chips are optional and changeable. Replace with the same quantity of any chopped toasted nut, white chocolate chips, peanut butter chips, butterscotch nibs or dried fruit.