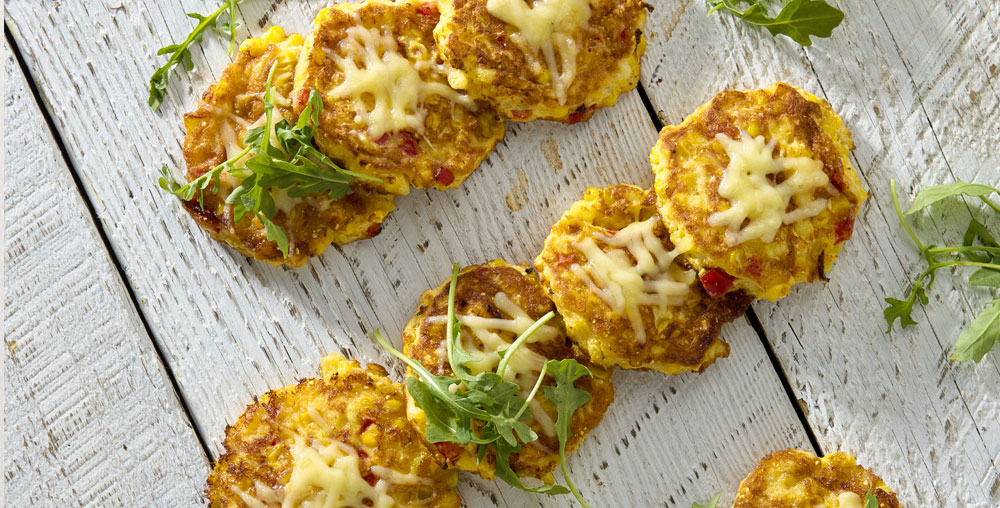 A delicious ode to his grandmother, Stella Pristine, who loved the Cheese Boutique and Jarlsberg cheese, Afrim Pristine shares his Norwegian Corn Cake recipe; a new, eggciting treat to be enjoyed by your whole family.
Print This Recipe
Ingredients
2 large Conestoga Farms Free Range Eggs
2 cups corn Kernels, fresh or frozen (thawed)
2 Tbsp Cornmeal
1 tsp sugar
3/4 tsp sea salt
1/4 tsp baking powder
4 Tbsp extra-virgin olive oil
1 1/2 cups grated Jarlsberg cheese
2 cups baby arugula
Instructions:
Preheat the oven to 350*F (180*C
Separate the egg yolks from the whites in 2 small bowls.
In a large bowl, stir together the corn kernels, bell pepper, cornmeal, sugar, salt, baking powder, and egg yolks.
In a separate large bowl, using an electric mixer, beat the egg whites until stiff peaks form. Gently fold this into the cornmeal mixture.
In a large skillet, heat 2 tablespoons of the extra-virgin olive oil over medium heat.
Working in batches and using a 1/4 cup to measure, drop the batter into the hot oil, flatting each corn cake slightly with a spatula, and cooking them for approximately 2 minutes per side or until golden brown.
Transfer to a baking sheet, and repeat the process with the remaining oil and batter. If you notice the oil getting a little gnarly or too brown during the process, just toss it and replace with fresh oil.
Top the corn cakes evenly with Jarlsberg cheese, and bake for approximately 1 minute or until the cheese has just melted.
Remove from the oven, and make 4 stacks of 3 cakes each on the serving plates. Top the stacks evenly with arugula, and serve.