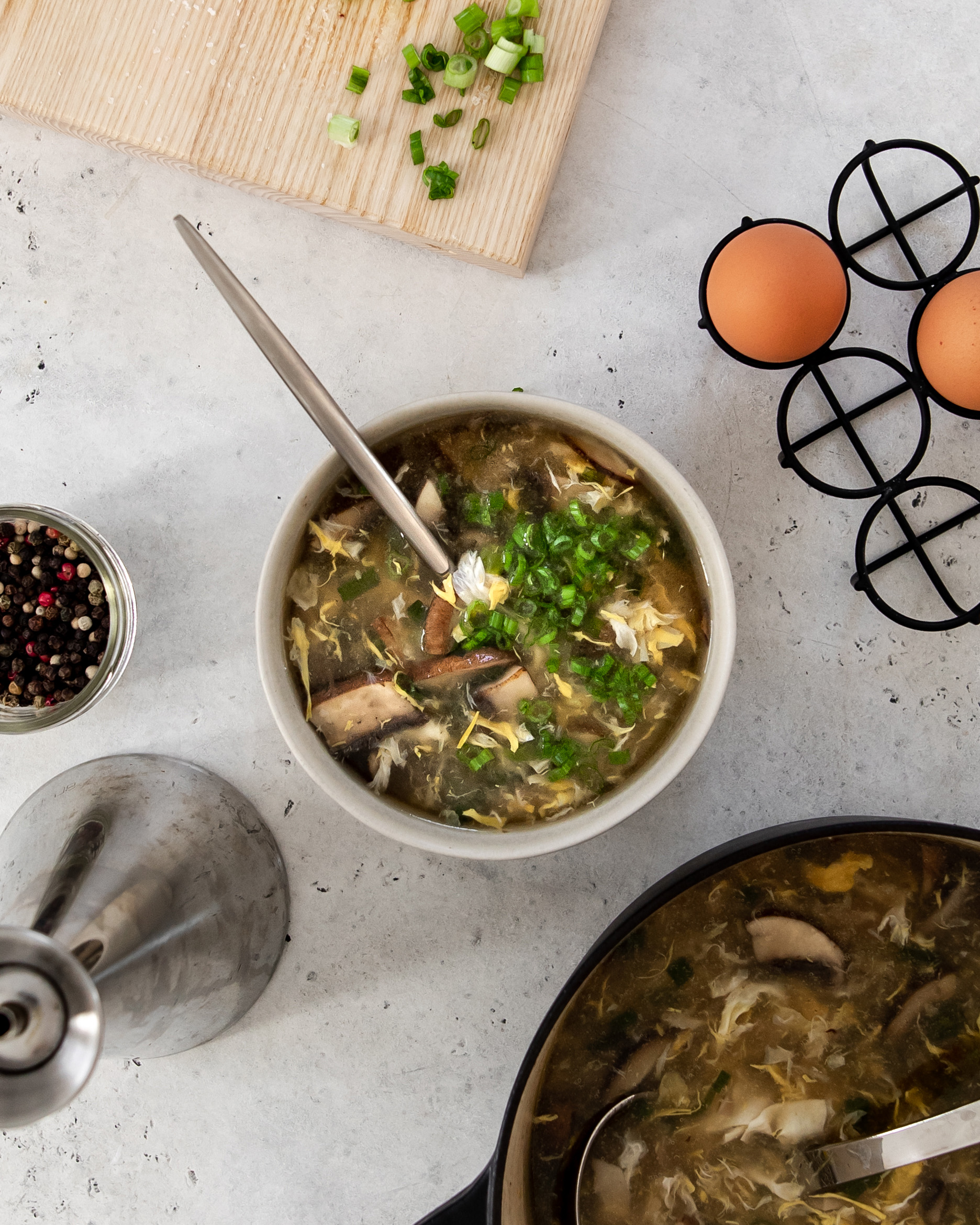 Nothing says comfort like a hot bowl of soup. What makes this soup special is the meatiness of sauteed wild mushrooms, combined with the richness of Conestoga Free-Run Omega-3 Eggs, giving the soup a flavour that warms the soul. The best part? This soup can be made from fridge to table in less than 15 minutes.
Yield: Serves 4 
Prep Time: 5 minutes
Cook Time: 10 minutes
Total Time: 15 minutes 
Ingredients
2 Conestoga Farms Free Run Omega-3 brown eggs, lightly beaten
2 tbsp olive oil
½ bunch green onions, sliced
175g wild mushrooms, chopped
½ tsp salt
½ tsp fresh ground pepper
6 cups chicken stock
2 tbsp cornstarch
 
Instructions:
Method
Warm olive oil in a medium heavy-bottom pot, on medium high heat. Add green onions and saute for 1 minute while stirring, then add mushrooms and stir to combine. Season with salt and pepper, and continue to cook for 4 to 5 minutes, stirring occasionally,  until the mushrooms just begin to brown. Pour in the chicken stock and increase heat to high.
Mix the cornstarch with 2 tablespoons of water in a small bowl.
Once the soup is boiling, pour in the cornstarch slurry and stir until the soup is slightly thickened. Reduce heat to medium. Gently stir the soup to create a swirling effect, then slowly pour in the eggs. Continue to stir until the eggs are fully cooked, about 10 to 20 seconds.
Serve immediately and garnish with green onion.
Notes
Cornstarch is used to thicken the soup. This is an optional ingredient.
Chicken stock can be substituted with vegetable or beef stock.
Wild mushrooms are optional, any mushroom will work well with this recipe.