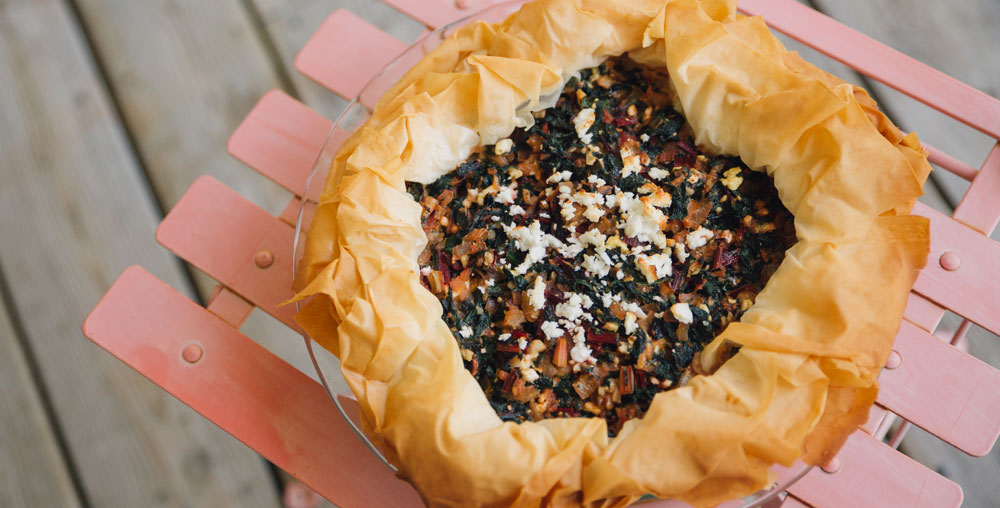 Crack open the crisper! We're bringing summer freshness and Southern Ontario-farmed eggs to the table with an egg-cellent new recipe from Toronto Chef & "Honest to Goodness" Cookbook Author Christine Tizzard! From spinach to celery, garam masala to ground nutmeg, you'll find layers of savoury, spicy (and healthy!) flavours in every bite, all in a pie that fits in the palm of your hand.
Yield: 14 small individual pies
Prep Time: 25 minutes
Cook Time: 15-20minutes
Total Time: 1 hour
Special Equipment Needed: 3 muffin pans and pastry brush
Ingredients
½ cup melted coconut oil or olive oil, for brushing phyllo sheets
1 lb. (1 bunch) fresh or frozen spinach
1 lb. (1 bunch) fresh or frozen Swiss chard
1-2 Tbsp coconut oil
2 medium onions, finely diced
1 clove garlic, pureed
½ cup diced celery or fennel bulb
¼ tsp ground or freshly grated nutmeg
2 tsp curry powder
1 tsp garam masala
250 g feta, broken into small pieces.
½ cup chopped walnuts or walnut pieces
1-2 Tbsp chopped fresh parsley
2 Conestoga Farms Organic Eggs
½ cup coconut milk
½ tsp salt, to taste
½ tsp pepper, to taste
14-18 sheets phyllo, thawed according to package instructions
Instructions:
Preheat oven to 350°F and brush muffin pans with melted coconut oil. Start boiling a large pot of salted water.
If using fresh chard, separate stems from leaves, finely chop steams and set aside to sauté with onions. If using fresh chard and spinach make sure they are washed well since these types of greens can be very sandy.
Blanch (boil) spinach and chard leaves in boiling salted water until wilted, 2 minutes. Drain in colander and run under cold water in sink to cool. Use hands to give greens a good squeeze, releasing all moisture. Finely chop and set aside in large bowl.
In medium sauté pan over medium heat, add 1 Tbsp coconut oil and sauté onions until translucent, about 3 minutes. Add garlic, celery, chard stems (if using), spices and season with salt and pepper. Sauté until softened, about 5 minutes.
In the meantime whisk eggs with coconut milk in small bowl, set aside.
Add sautéed veggies to spinach and chard, along with walnuts, feta and parsley. Taste and adjust seasoning if necessary. Let cool slightly.
While cooling, prepare muffin pans with phyllo crust. For each mini pie, cut one sheet into 4 squares and gently brush with coconut oil. Layer in muffin tin by criss- crossing sheets on top of one another. Leave overhang to wrap around filling after.
Add filling into each mini pie and fold overhang over, leaving it ruffled in appearance. Brush outer layer lightly with oil.
Bake 15-20 minutes. If top's browning too quickly, lightly place layer or foil over top. Let rest 10 minutes before serving.
Recipe courtesy of Christine Tizzard.