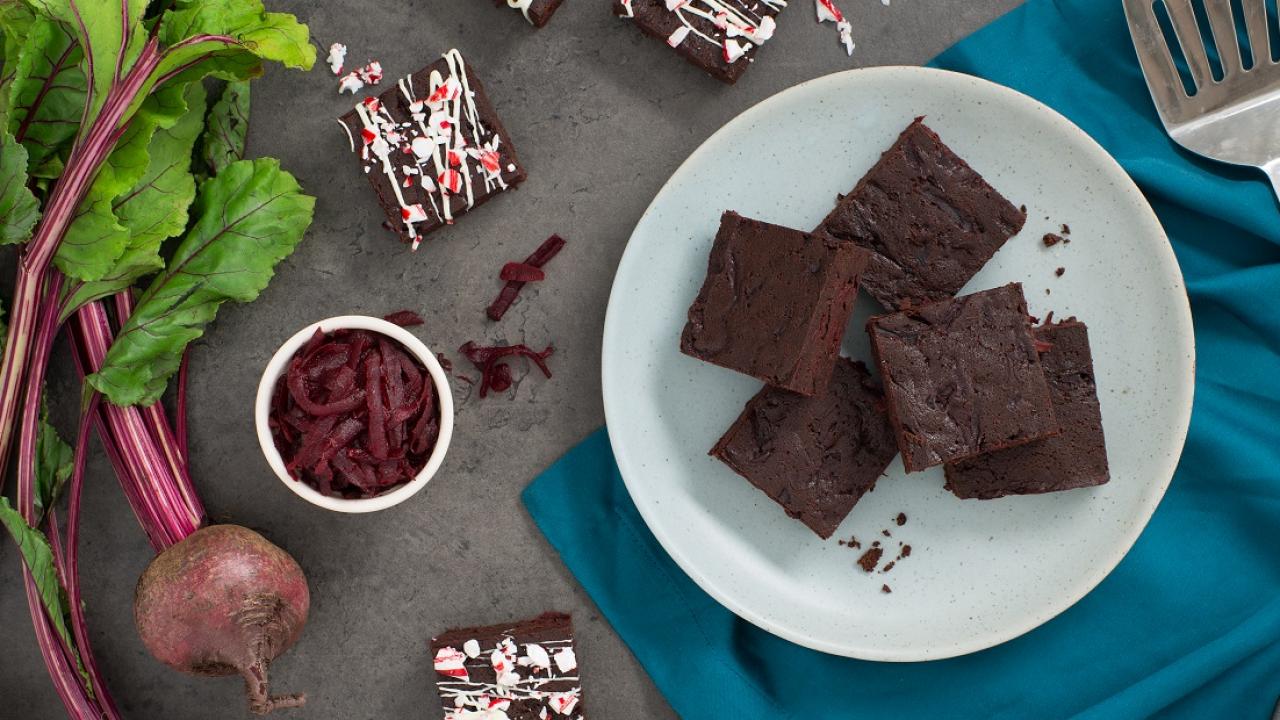 Shredded raw beets make these fudgy brownies extra moist and give them a healthy nutritional boost.
Ingredients
4 eggs
⅔ cup ( 170 mL ) unsalted butter
6 oz ( 175 g ) unsweetened chocolate, finely chopped
¾ cup ( 175 mL )granulated sugar
½ cup ( 125 mL )firmly packed brown sugar
1 tsp ( 5 mL )vanilla extract
1 cup ( 250 mL )all-purpose flour
¼ cup ( 60 mL )cocoa powder
½ tsp ( 2.5 mL )salt
¼ tsp ( 1.25 mL )baking powder
2 cups ( 500 mL )packed shredded cooked beets
2 oz ( 60 g )white chocolate, melted (optional)
¼ cup ( 60 mL )finely crushed peppermint candies (optional)
 
Instructions:
Preheat oven to 350°F (180°C). Line 9-inch (2.5 L) square baking pan with enough parchment paper to overhang edges; set aside. 
In heatproof bowl set over saucepan of barely simmering water, melt butter and unsweetened chocolate, stirring occasionally. Remove from heat. Stir in sugar; let cool slightly.
Stir eggs into chocolate mixture, one at a time, until well combined. Stir in vanilla. In separate bowl, whisk together flour, cocoa powder, salt and baking powder until combined; stir into chocolate mixture. Fold in beets.
Scrape into prepared pan; smooth top. Bake for 30 to 33 minutes or until only a few moist crumbs stick to a toothpick when inserted into centre.
Let cool completely in pan on rack. Using parchment paper overhang, transfer to cutting board. Drizzle with white chocolate. Sprinkle with crushed candies (if using). Cut into 16 squares. (Make-ahead: Cover and refrigerate for up to 2 days or freeze for up to 1 month.)
Tips:
Dust brownies with cocoa powder for simple finish.
For sweeter brownies, substitute semisweet chocolate for unsweetened chocolate.