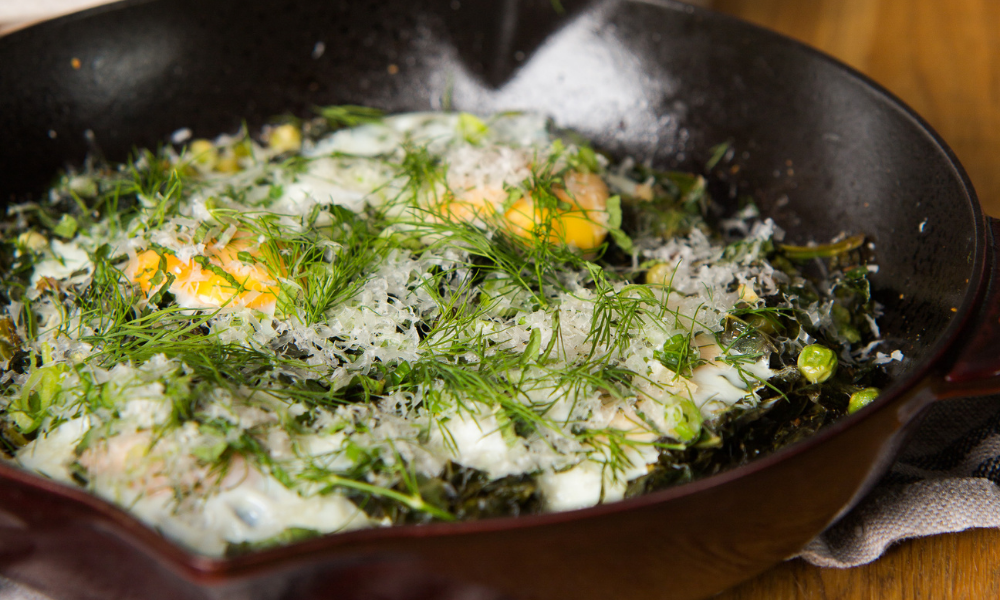 As a reminder of his Turkish roots, Cheese Boutique's Afrim Pristine has created a Mediterranean Green Eggs recipe. With great bite from the herbs and spices, the cheese and green vegetables complement the runny yolk beautifully.
Ingredients
4 Conestoga Farms Free Run Omega-3 eggs
3 green onions, finely chopped
1 clove garlic, finely chopped
1 teaspoon ground cumin
2 teaspoons ground coriander
1 teaspoon dried oregano
Olive oil
A few branches black kale
½ lemon
A small handful baby spinach
A small handful fresh peas
A small handful rough chopped mint
A small handful torn dill
50g coarsely grated pecorino cheese or crumbled feta
Instructions:
Add olive oil to large sized pan on low-medium heat, then add garlic and green onions and cook until softened.
Add all dry spices and herbs and mix with green onions and garlic.
Roughly chop kale and add to the pan along with half squeezed lemon, stir gently for about 3 minutes.
Add the spinach, peas and salt and pepper. Stir for another 2-3 minutes or until spinach has wilted

Crack Conestoga Farms Free Run Omega-3 eggs into the pan on top of the green veggie mixture. Cook for 2-3 minutes uncovered.

Cover pan and cook for another 3 minutes or until the eggs are cooked. Season eggs with salt and pepper.
Add and scatter mint and dill and finished with grated pecorino.
Enjoy.