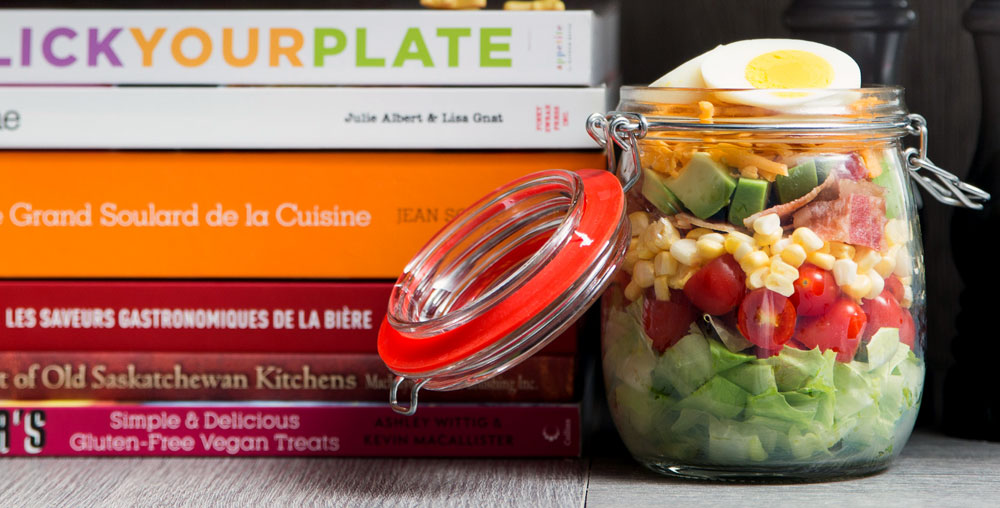 Make meal prep more egg-citing with this Mason Jar Cobb Salad recipe, courtesy of our friends at Bite Me More! Topped with a home-mixed buttermilk ranch dressing, this refreshing salad consists of lettuce, bacon, freshly shucked corn, cheddar, avocado, cherry tomatoes and our Southwestern Ontario-laid Hard Boiled & Peeled Free Run Eggs. Why not drop a jar to a friend?
Yield: 12 Servings
Ingredients
Buttermilk Ranch Dressing
2 ½ cups Buttermilk
1 ¼ cups Sour cream
2/3 cup Mayonnaise
5 tbsp Cider vinegar
5 tbsps Flat leaf parsley, chopped
3 tbsp Fresh chives
3 ½ tsp Kosher salt
3 tsp Sugar
3 tsp Paprika
2 ½ tsp Dijon mustard
¾ tsp Garlic powder
Cobb Salad
30 cups Romaine Lettuce, chopped
12 ears Fresh corn, shucked
24 slices Bacon, cooked crisp and crumbled
6 Ripe avocado, cut into 1-inch pieces
6 cups Cheddar cheese, grated
12 Conestoga Farms Hard Boiled & Peeled Free Run Eggs, sliced
4 ½ cups Cherry tomatoes
Instructions:
Using a whisk or blender combine buttermilk, sour cream, mayonnaise, cider vinegar, parsley, chives, salt, sugar, paprika, Dijon mustard and garlic powder. Whisk or blend until well combined, refrigerate covered until ready to use.
To prepare the corn, in a large pot of boiling water, cook the corn for 2 minutes. Drain, cool and cut the kernels off the cob.
To assemble the mason jar cobb salad, lay the romaine lettuce at the base of each of the 12 mason jars. Arrange the corn, bacon, avocado, cheddar cheese, Conestoga Farms Hard Boiled & Peeled Free Run Eggs and tomatoes in layers over the romaine lettuce. Drizzle ranch dressing over salad. Close lid and shake to distribute dressing.
Enjoy!