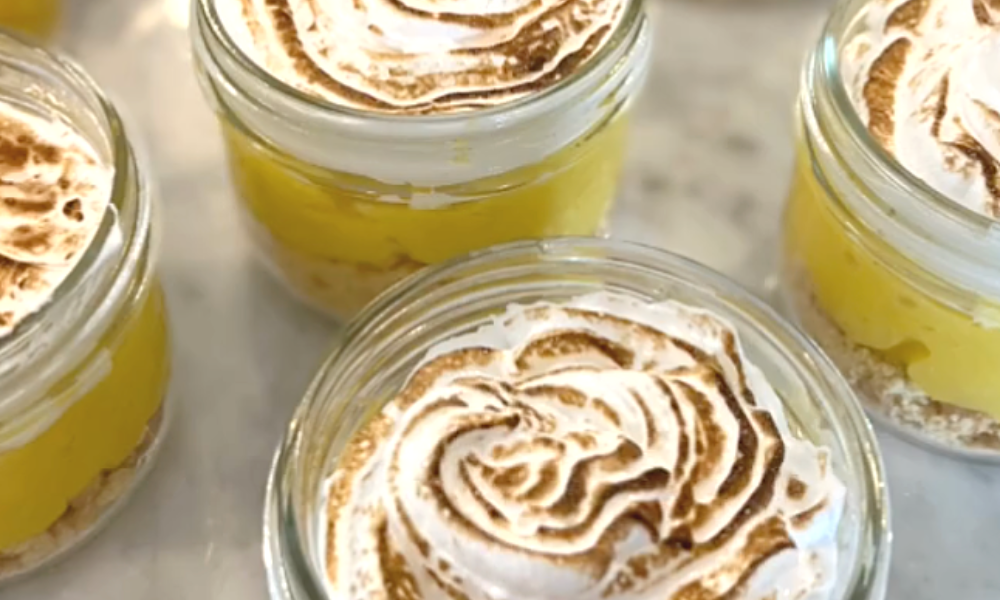 Satisfy your sweet tooth with our friend, Jasmine Baker's, Lemon Meringue Dessert Jars. Great for family gatherings or just because, this grab and go dessert jar will have everyone coming back for a second (or even a third)!
Ingredients
1 & 3/4 cup white sugar
1/3 cup cornstarch
6 large Conestoga Farms™ Brown Eggs
6-8 Lemons (enough to make 1 cup of lemon juice)
1.5 tsp salt
2 Tbsp chilled butter
1/4 tsp cream of tartar
16 – 20 shortbread, lemon or vanilla cookies
Instructions:
LEMON CURD
Wash lemons, zest & juice them into a large bowl
Separate 4 Large Conestoga Farms™ Eggs
Add 2 whole large Conestoga Farms™ Eggs and your 4 egg yolks to sugar, 1 tsp salt and cornstarch in pot, mix really well. Add water & lemon juice to that pot & heat over medium, stirring constantly. Once your lemon curd thickens and you get tiny bubbles, You will take off of heat, add butter, whisk and then set aside to cool.
MERINGUE
Meringue: Combine egg whites, sugar, 1/2 tsp salt & cream of tartar in stand mixer bowl or any heat-safe bowl and place over a pot of with 1-2 inches of boiling hot water. The water shouldn't be on a burner and bowl with the meringue mixture should not not be touching the water. We're working with the steam here. Whisk the mixture until sugar is dissolved.
Attach bowl to stand mixer with whisk attachment or get hand mixer, put on high and watch it transform. Mixture should triple in size, stiffen up and form peaks