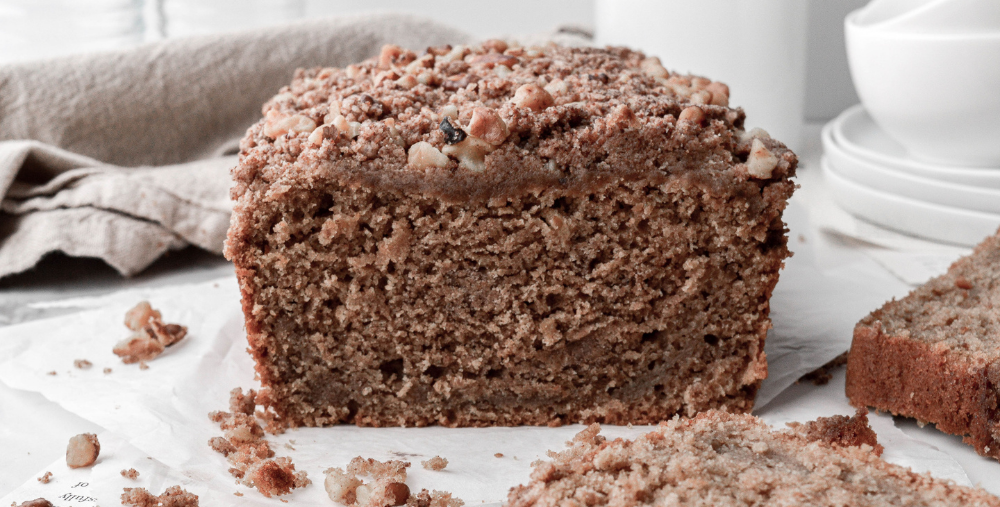 Start off the morning right for your family with this Healthy Apple Breakfast Loaf. It's nutritious, naturally sweetened and will have everyone coming back for seconds.
Ingredients
Loaf
1 Conestoga Farms Free Run, Omega-3 Eggs
2 cups All Purpose Flower
½ cup Coconut Sugar
¼ cup Pure Maple Syrup
1 ½ tsps Baking Powder
¼ tsp Baking Soda
½ tsp Salt
1 tsp Vanilla Extract
½ cup Coconut Oil (melted)
1 cup Milk (room temperature)
1 cup Grated Apples
5 tsps Cinnamon
1/8 tsp All Spice
¼ tsp Nutmeg
Cinnamon Streusel Topping Ingredients
1/3 cup Coconut Sugar
2/3 cup All Purpose Flour
¼ cup Coconut Oil
1 ½ tsp Cinnamon
Optional: ¼ cup Chopped Walnuts
Instructions:
Preheat oven to 350 degrees F. Using a standard 9 x 5 inch loaf pan, lightly grease or line it with parchment paper.
Start by making your Cinnamon Streusel Topping. In a small mixing bowl, combine coconut sugar, flour, coconut oil and cinnamon. Mix until a dough like crumble forms. Set aside.
Next, peel your apples and grate them using the large holes of your paddle or box grater. Set aside.
Prepare your loaf. In a medium sized mixing bowl, add all of the dry ingredients (flour, coconut sugar, baking powder, baking soda, salt, cinnamon, all spice and nutmeg). Whisk until combined. Set aside.
In another medium sized mixing bowl, combine all the wet ingredients (maple syrup, vanilla, egg, melted coconut oil and milk). Whisk until fully incorporated and combined.
Add your egg mixture to your dry ingredients. Mix just until combined. Make sure not to over mix.
Carefully fold in your grated apples.
Pour your batter into your prepared loaf pan and sprinkle the Cinnamon Streusel Topping over the batter. Optional: Sprinkle chopped walnuts over the batter as well.
Bake for 60 minutes or until the toothpick inserted comes out clean.
Allow your load to cool before serving. Enjoy!