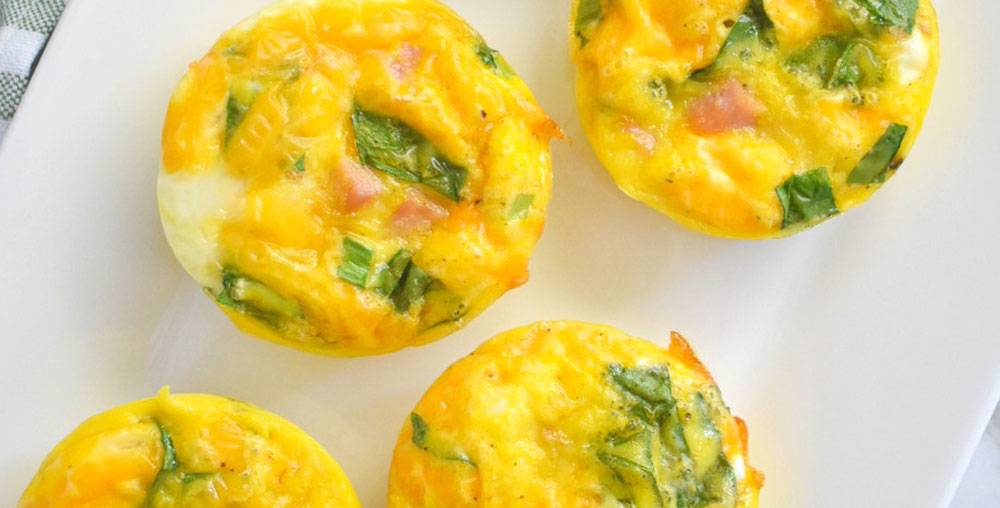 Bite-sized with big flavour, enjoy the taste of fresh summer spinach in these egg-cellent Ham, Cheese & Spinach Egg Cups, complete with the additional nutrients found in Conestoga Farms Free Run Omega-3 Eggs! Recipe courtesy of our friend at Herbs & Flour.
Servings: 6
Prep Time: 10 Minutes
Cook Time: 20 Minutes
Print This Recipe
Ingredients
5 Conestoga Farms Free Run Omega-3 Eggs
¾ cup cheddar cheese, shredded
½ cup cooked ham, chopped
1/3 cup spinach, chopped
¼ cup milk
1 tsp fresh herbs (parsley, basil, thyme, oregano), chopped
1 tsp green onion, chopped
¼ tsp salt
1/8 tsp pepper
Instructions:
Preheat oven to 375F and generously grease a 6-cup muffin tin.
In a bowl, whisk the eggs. Add the remaining ingredients and mix together. Scoop into the muffin cups and bake for 15-20 minutes or until the eggs are set.
Serve and enjoy.