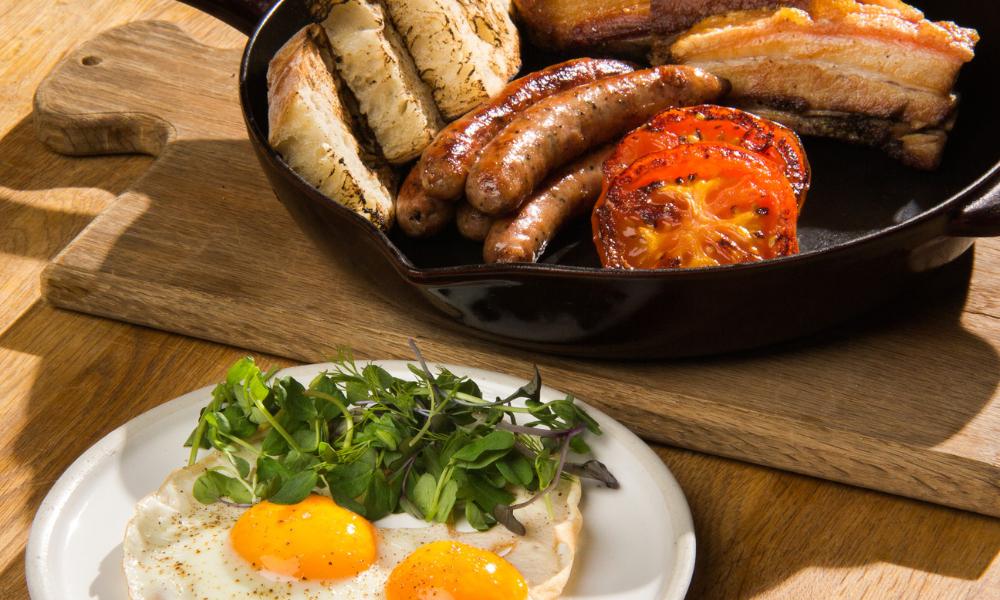 Local eggs, butcher sourced bacon and English style sausages! This hearty Traditional English Breakfast recipe made by Afrim Pristine is guaranteed to be a family favourite.
Ingredients
2 Conestoga Farms Omega-3 eggs
4 English Style Breakfast Sausages
2 Vine Tomatoes, ripened
2 Pork Belly slices (butcher sourced, thick & cooked)
Salted butter, best quality you can find (a few knobs)
Arugula (small handful)
Pea Shoots or fresh Microgreens (small handful)
Fresh Crusty Baguette (a few slices)
Olive Oil (a drizzle)
Salt & Pepper, to taste
Instructions:
Method
Preheat oven to 350 degrees.
In a medium sized sauté pan, add a drizzle of olive oil and set on medium high heat.
Add breakfast sausages and cook for about 3-4 minutes or until golden brown on all sides. After cooked, set aside on a plate and keep covered with tin foil.
Cut tomatoes in half and season with salt and pepper.
Drizzle some of the left over rendered fat from the sausage pan into a new pan and put to medium heat.
Add the tomatoes into the pan and cook for 2-3 minutes or until open side is golden brown
On a baking sheet lined with parchment paper, add 2 slices of the pork belly and place into your oven which is already preheated. Warm for about 10 minutes. Then set aside and keep covered with tinfoil.
In a medium sized pan, add your butter and put to medium heat.
Once the butter has melted, crack 2 Conestoga Farms eggs into the pan and cook them sunny side up which should take about 3 minutes. Add a few pinches of salt and pepper.
Plating
Place the eggs, sausages, tomatoes, pork belly onto a large dinner plate.
Add arugula and pea shoots onto your plate and drizzle greens with olive oil and a few pinches of salt and pepper.
Enjoy with a crusty baguette.