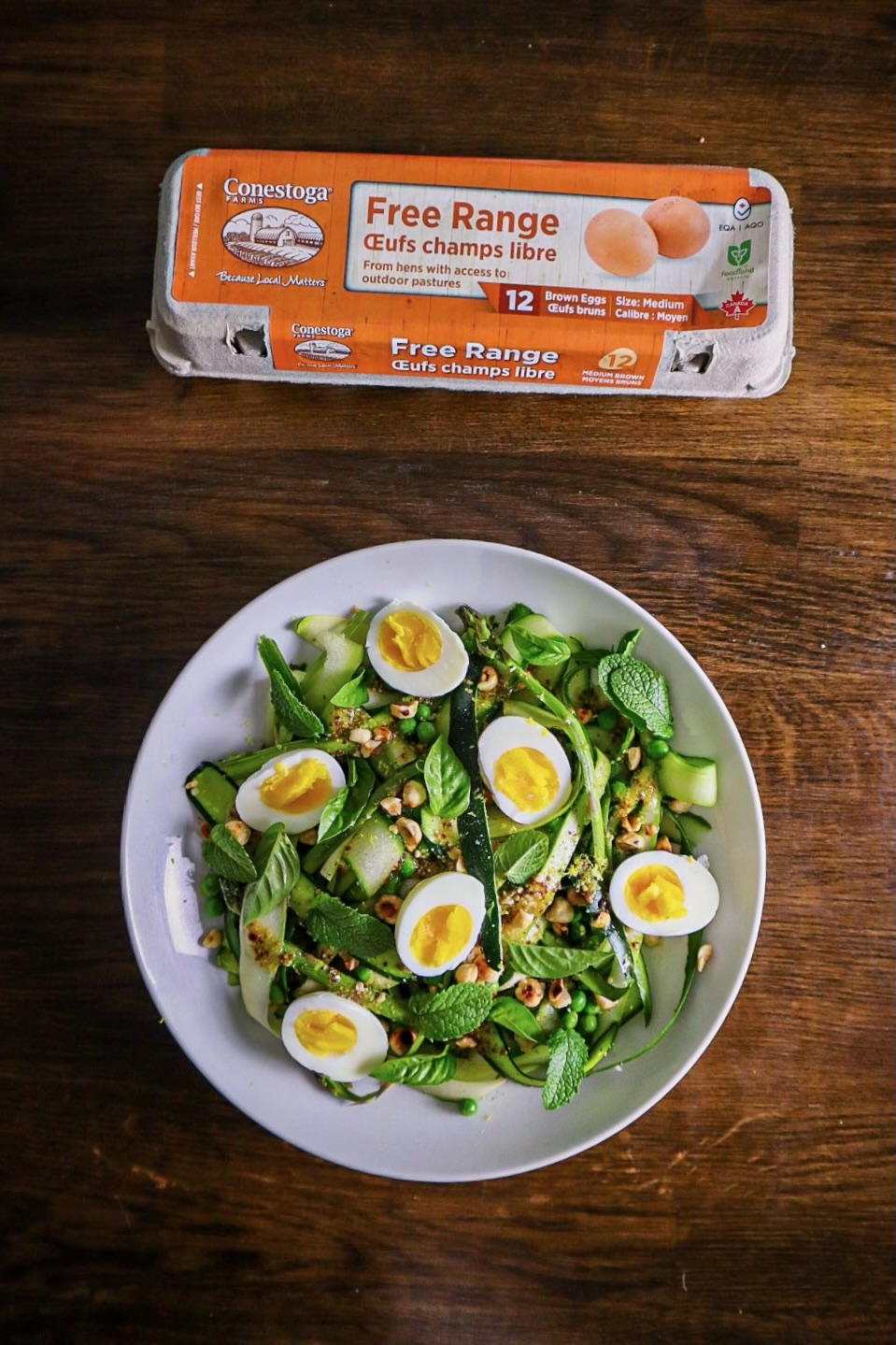 Sam Medeiros shows us how she makes her go to Green Ribbon & Egg Salad and not only is it nutritious, but it's also so easy to substitute your favorite ingredients of the season!
Yield: Serves 2
Ingredients
3 pieces Conestoga Free Range Eggs

1 tbsp Grainy Mustard

 1/2 piece Lemon, juice and zest

1.5 tbsp Sherry Vinegar

1/4 cup Olive Oil

1-piece Zucchini, peeled into ribbons

1 piece Cucumber, peeled into ribbons, avoiding seeds

 1/2 bunch Asparagus, peeled into ribbons

1/3 cup English Peas (fresh, blanched – or frozen, thawed)

Fresh Mint & Basil, Garnish

2 tbsp Hazelnuts, hulled, toasted, chopped

Salt & Pepper to Season
Instructions:
Method
In a pot of boiling water, drop in 3 pieces of Conestoga Free Range Eggs. Cook for 7-8 minutes, then place into an ice bath and set aside.

Meanwhile, in a small bowl mix together grainy mustard, lemon juice, sherry vinegar, olive oil, salt and pepper to make vinaigrette.

In a large bowl, mix together zucchini, cucumber, and asparagus ribbons and toss with half of the vinaigrette. Plate onto a large platter and top with English peas, and remaining vinaigrette.

Remove eggs from ice bath and peel to remove all shells. Cut into halves or quarters and arrange onto peeled vegetables.

Garnish with lemon zest, a healthy pinch of salt and pepper, fresh mint and basil, toasted hazelnuts, and olive oil.