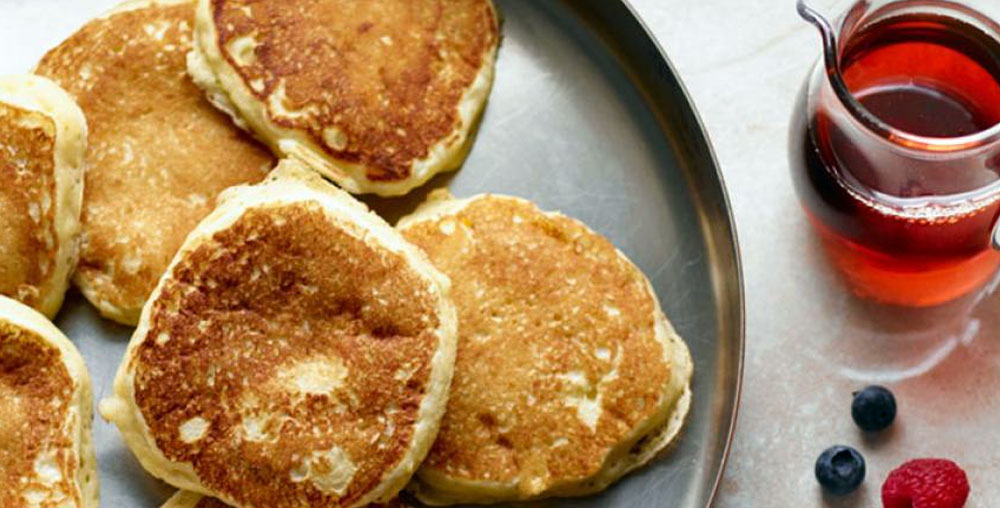 Who doesn't like pancakes? Here's a recipe to get the kids cooking.
Prep: 10 Minutes
Cook: 20 Minutes
Serves: 6
Print This Recipe
Ingredients
2 cups all-purpose flour
⅛ cup granulated sugar
1 tbsp baking powder
1 tsp baking soda
pinch of salt
3 eggs
2 ¼ cups buttermilk
⅛ cup butter, melted
⅓ tsp vanilla extract
vegetable oil
maple syrup
Instructions:
In a large bowl, whisk together flour, sugar, baking powder, baking soda and salt.
In a separate bowl, beat together eggs, buttermilk, melted butter and vanilla. Pour egg mixture into flour mixture and whisk until just blended (batter should be lumpy).
Heat a large non-stick skillet or griddle over medium heat; lightly brush with vegetable oil. Pour a scant 1/4 cup (50 mL) batter into skillet for each pancake and cook for 1 to 2 minutes or until underside is brown and bubbles break on top. Turn and cook 30 to 60 seconds or until underside is golden. Repeat with remaining batter, oiling pan and adjusting heat as necessary between batches. Serve warm with maple syrup.
Tips
Half Whole Wheat: Replace 1 cup (250mL) of the all-purpose flour with whole wheat flour.
Add about 1 cup (250mL) diced fruit (such as apples) or blueberries to the batter if desired.
Buttermilk adds a nice tangy taste to pancakes. Be sure to shake the carton of buttermilk before using as it often separates.