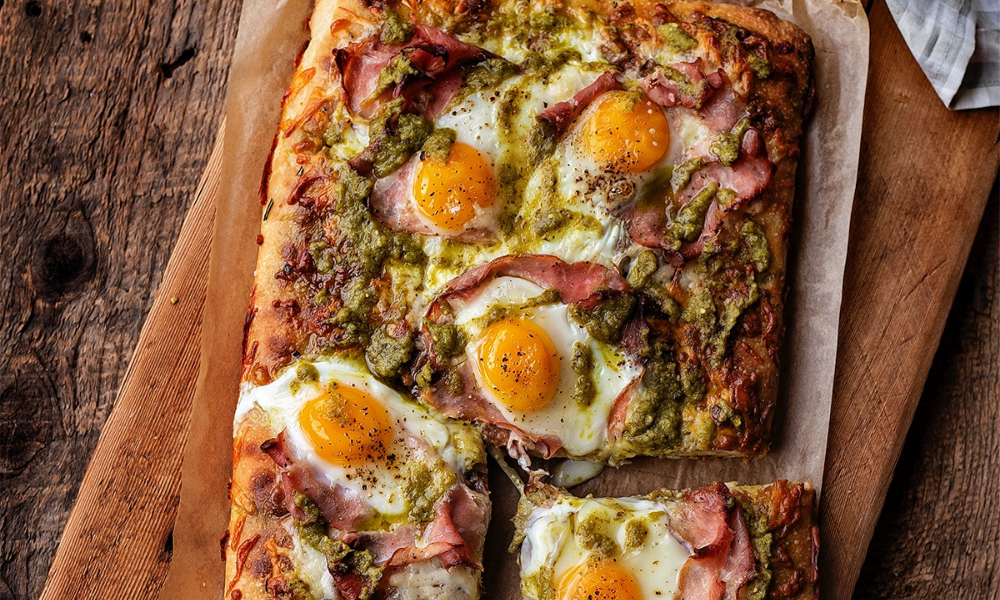 Our friend Irene Matys shows us a simple way to make a Green Eggs and Ham Focaccia. Rosemary Cheesy Focaccia with the perfectly baked deep gold egg yolks from Conestoga Farms Organic Brown Eggs finished with a flavour burst of green pesto goodness for a delicious breakfast to share with family and friends.
Ingredients
1 10 x14 focaccia or flatbread, rosemary or plain style
2 cups grated friulano or mozzarella cheese
5-6 slices Tuscan or honey style roast ham
5-6 extra-large Conestoga Farms Organic Brown Eggs
½ cup of your favourite pesto sauce
2 Tbsp extra-virgin olive oil or chilli oil
Salt and pepper to taste
Instructions:
1. Preheat the oven to 400 F and line a large baking sheet with parchment paper
2. Place focaccia or flatbread on lined baking sheet and sprinkle evenly with cheese
3. Place ham slightly cupped to hold eggs on top of cheese
4. Crack an egg in a bowl prior to placing in ham cup to avoid falling egg shells. Gently pour egg in ham cup. Repeat with remaining eggs.
5. Bake in preheated oven for 25-30 minutes or until preferred doneness of eggs. If bread and cheese are browning too much, tent a piece of foil on top but ensure it's not touching top of egg yolks. Continue baking until doneness.
6. Stir pesto with oil and drizzle evenly on top of focaccia
7. Season with salt and pepper and serve hot