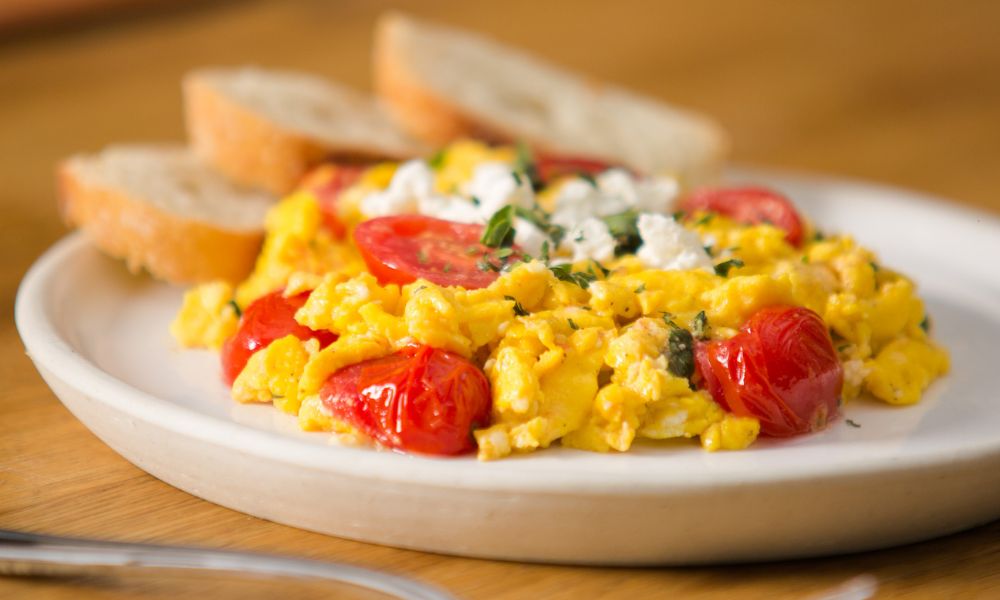 Cheese Boutique's Afrim Pristine has created an elevated form of a classic scrambled egg dish, inspired by his time in Greece. This dish is easy to make and bursting with flavour.
Ingredients
4 Conestoga Farms Free Run Omega-3 + Lutein eggs
12 halved cherry tomatoes
100g Greek feta, crumbled
75g kefalatiri cheese or pecorino Romano, grated
Small handful of finely chopped fresh oregano
50g salted butter
Salt and pepper, to taste
Pita bread
Instructions:
Crack Conestoga Farms Free Run Omega-3 + Lutein eggs into a bowl and stir with a fork, combining whites and yolks.
Add grated kefalatiri cheese into egg mixture and stir again.
In a large size pan, add butter and melt on medium heat.
Once butter is melted, pour egg mixture into pan, and cook for about 4 minutes, stirring with a fork to get a scrambled egg consistency.
About 2 minutes into cooking the eggs, add tomatoes, ¾ of crumbled feta and oregano. Incorporate all ingredients with the eggs.
Season with salt and pepper.
Plate the scrambled eggs into 2 plates evenly and top both plates with the rest of the feta.
Serve alongside warmed pita bread.