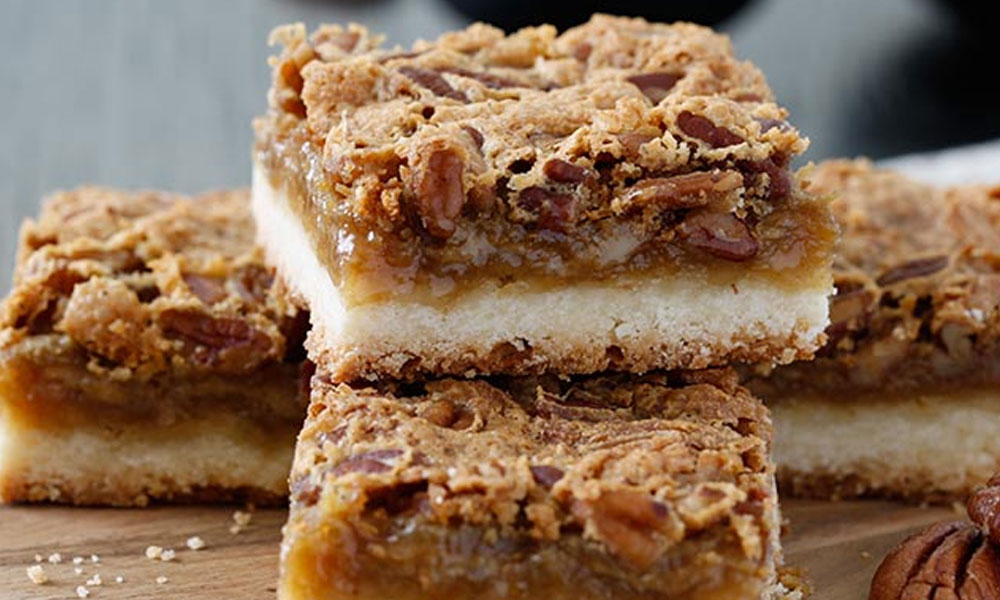 A simpler take on the classic Canadian butter tart. These squares feature a sweet and gooey filling that is complimented perfectly by a crisp shortbread crust. Take these squares up a notch by adding chopped pecans or raisins.
Makes: 16 Servings
Prep Time: 15 Minutes
Cook Time: 55 Minutes
Ingredients
¾ cup unsalted butter, at room temperature
1⅔ cups all-purpose flour
½ cup icing sugar
½ tsp salt
Filling
2 eggs
1 cup dark brown sugar, packed
½ cup pure maple syrup
¼ cup unsalted butter, melted
1 tbsp all-purpose flour
1 tbsp apple cider vinegar
1 tsp vanilla extract
Instructions:
Preheat oven to 350°F (180⁰C). Grease 8-inch (20 cm) square metal baking pan with nonstick cooking spray or oil.
In a large bowl, using an electric mixer on low speed, combine butter, flour, icing sugar and salt. (Mixture will appear crumbly but should hold together when pressed with your fingertips.) Press evenly into bottom of prepared pan. Bake for 15 to 20 minutes or until edges are lightly brown. Remove from oven; cool on wire rack for 5 minutes.
Meanwhile, in a large, clean bowl, using an electric mixer on medium speed, beat eggs, brown sugar, maple syrup, butter, flour, vinegar and vanilla until smooth. Pour mixture over cooled base. Bake for 35 minutes or until mixture bubbles and is set in the middle.
Cool completely in pan on wire rack. Cut into squares.
Tip: For extra flavour add 1 cup (250 mL) of chopped pecans or ½ cup (125 mL) of raisins. Simply sprinkle evenly over filling before baking.