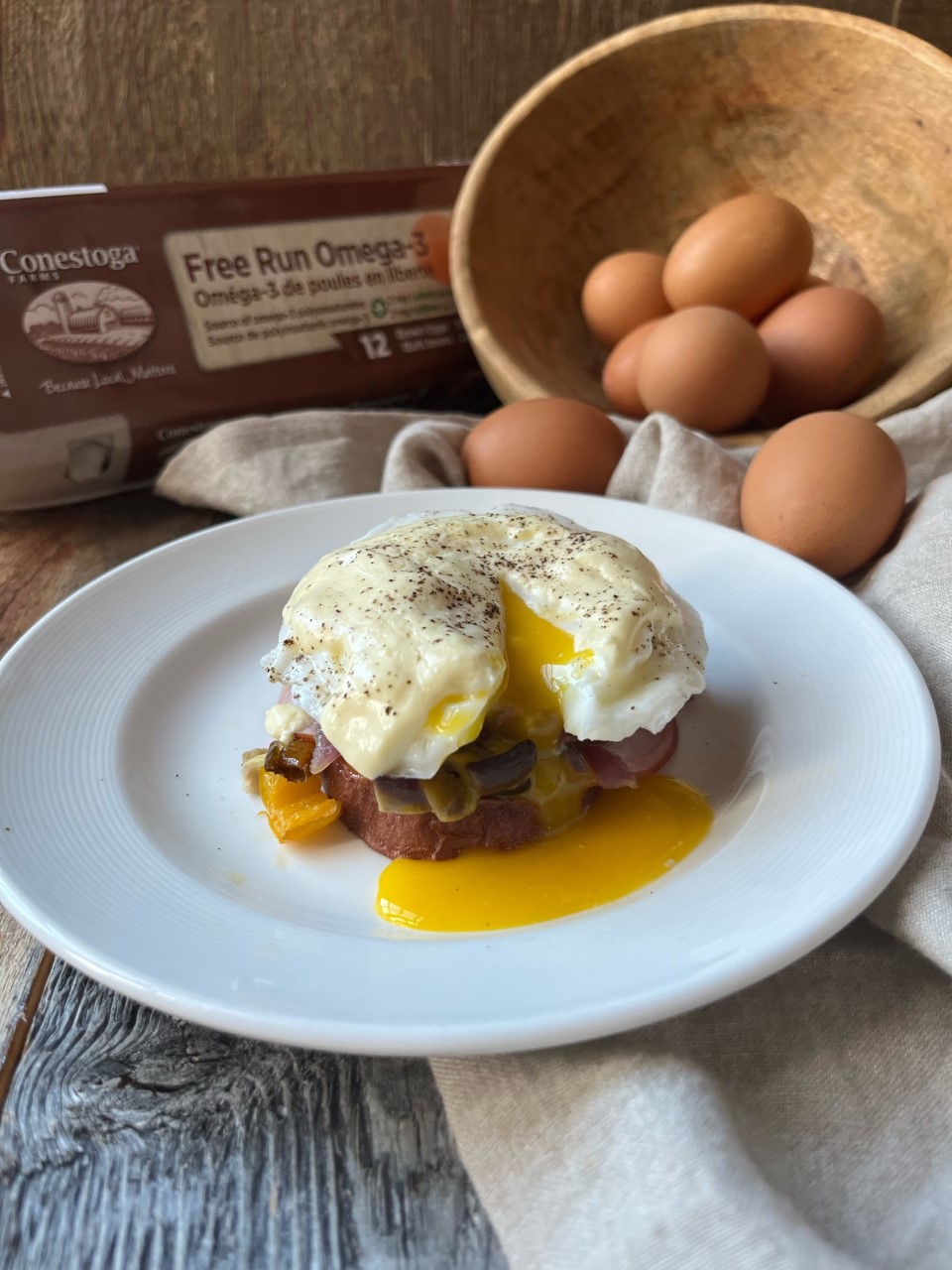 A healthy twist to the famous Eggs Benedict!
Ingredients
2 whole eggs Conestoga Farm Eggs
1 sweet potato, scrubbed and sliced
2 tbsp olive oil
1/2 bell pepper, chopped
1/2 red onion, chopped
1/2 small eggplant, chopped
Salt and pepper
4 slices deli ham or turkey 
 Hollandaise:
2 egg yolks
1/4 lemon, juiced
1/2 tsp salt
1/4 cup butter, melted
 
 
Instructions:
Heat your oven to 375.
Add the potato slices to a baking sheet (and place the chopped veggies (mixed) on the other side; drizzle all the veg and potato slices with oil and rub the surface of the potatoes.
Sprinkle with salt and pepper.
Bake until golden – about 20 minutes.
Meanwhile, put a small pot of water on the stove and bring to a boil. Spray a ladle with cooking spray and crack an egg into it. Place it in the pot (without submerging into the water); once it starts to solidify, tip a bit of water into the ladle to cook the top; place cooked egg onto a plate and repeat with the other egg.
Meanwhile, in a blender, add egg yolks, lemon and salt and whiz to combine. Stream in the melted butter and combine. Scrape into a glass bowl and microwave for about 20 seconds or until it thickens a bit.
To your plate, add a slice of potato to the dish, a slice or two of ham/turkey, a spoon of roasted veggies and then another potato slice. Top with the poached egg and a spoonful of sauce. Add a bit of pepper and serve immediately!