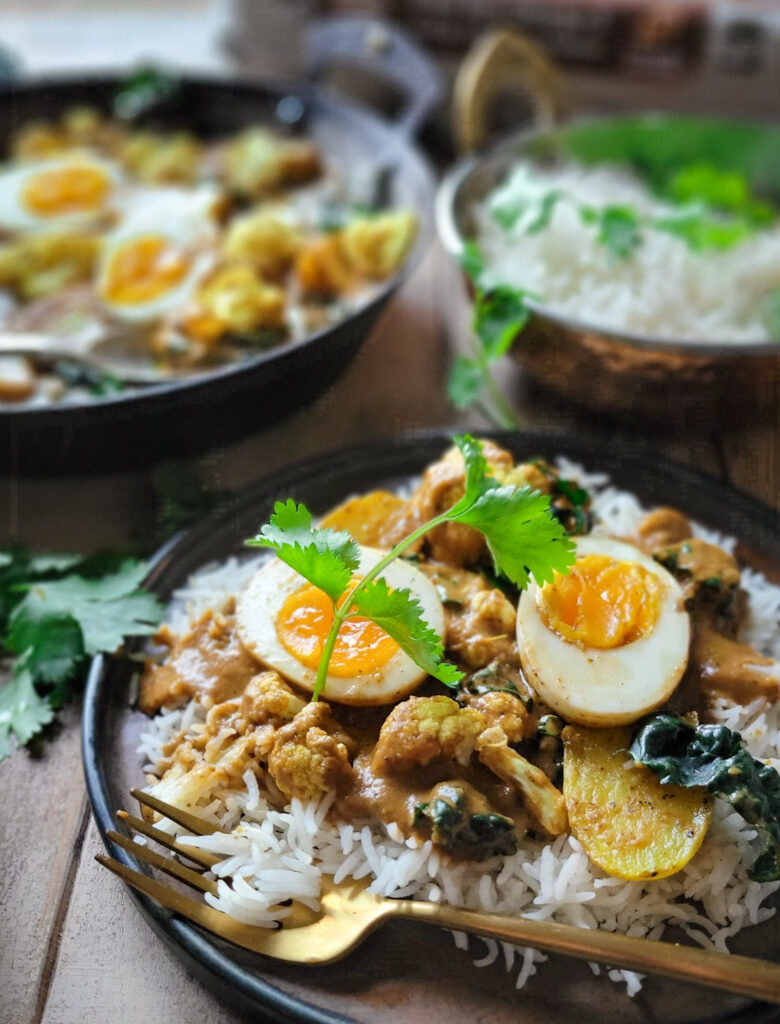 The perfect comfort dish for the cozy weather!
Ingredients
Eggs
4 Conestoga Free Run Omega 3 Eggs
2 cups cooked basmati rice
2 tablespoons freshly chopped cilantro
Curry Sauce
2 tablespoons olive oil
2 large bay leaves
10 garlic cloves
1-inch piece of ginger, chopped
1/2 green cayenne chili, chopped
2 large red onions, chopped
1/4 cupcoriander root and leaves, chopped
8 peppercorns
2 1/2 teaspoons ground cumin
2 1/4 teaspoons ground coriander
1 1/4 teaspoon garam masala
1 1/4 teaspoon red chili powder, or paprika/smoked paprika
1 teaspoon ground turmeric
1/4 teaspoon ground cardamom
1/4 teaspoon ground cinnamon
1/4 teaspoon cloves
1 can diced tomatoes
2 teaspoon sea salt flakes
270 ml coconut milk, full cream or light
150 ml water
Potatoes and Cauliflower
6-8 fingerling potatoes, sliced in half (quartered if larger)
1/2 medium cauliflower, cut into florets
olive oil
salt and pepper
 
Instructions:
Eggs
Add 3/4 inch of water to a medium saucepan. Bring to a boil.
Immediately add the eggs gently into the water, close the lid.
Steam eggs for 10 minutes for medium soft yolks, or 12 minutes for hard-boiled yolks. Immediately transfer the eggs to an ice bath to stop further cooking.
Once they have cooled slightly, peel and set aside.
Curry Sauce
Heat oil in a large heavy-bottomed cooking pot on medium heat. Add the bay leaves, garlic, ginger, chili and onion. Sautéé for 3-4 minutes on medium heat, tossing constantly until onion starts to turn golden. Reduce heat to low-medium and continue cooking for another 6-10 minutes, now stirring occasionally until onion is soft and gently caramelized.
Add the chopped coriander root and leaves, and peppercorns into the pot.
Combine the cumin, coriander, garam masala, chili powder, turmeric cardamom, cinnamon and cloves in a small bowl. Set aside 1 teaspoon for the potatoes and cauliflower. Add the remaining spice blend into the pot with the onions, coriander and peppercorns. Sautéé for a minute until aromatic.
Add the tomatoes plus juices, and salt. Increase heat to medium and mix well. Continue cooking for 5-6 minutes until tomatoes have blended in well and are cooked through.
Add the coconut milk and water. Reduce the heat to low. Cover and simmer for 20 minutes. The curry should be a rich and thickened.
Remove from heat. Taste for seasoning. Cool to room temperature and then blend to a smooth sauce in a blender till smooth. Store in the fridge for 4-5 days or freeze in freezer-safe containers for up to 2 months.
Potatoes and Cauliflower
Preheat the oven to 425F.
Place the potatoes into a pot and just cover with well salted water. Bring to a boil and then reduce the heat to medium. Simmer till just tender, where a knife can pierce to the middle with no resistance. 
Place the cauliflower florets and the potatoes onto a baking sheet. Drizzle with 2 teaspoons of olive oil.  Sprinkle the remaining spice blend, as well as 1/2 teaspoon each of salt and pepper evenly over the vegetables.  Toss to coat  
Bake for 30 minutes, or until the golden brown and the cauliflower is just tender.
Assemble
Bring two cups of the Curry Sauce along with 1 cup of stock, water or more coconut milk to a rolling simmer over medium heat.
Add the potatoes and cauliflower to warm through.
Serve
Slice the eggs in half and set into the curry sauce with the vegetables.
Serve over basmati rice.
Garnish with chopped fresh cilantro or parsley.