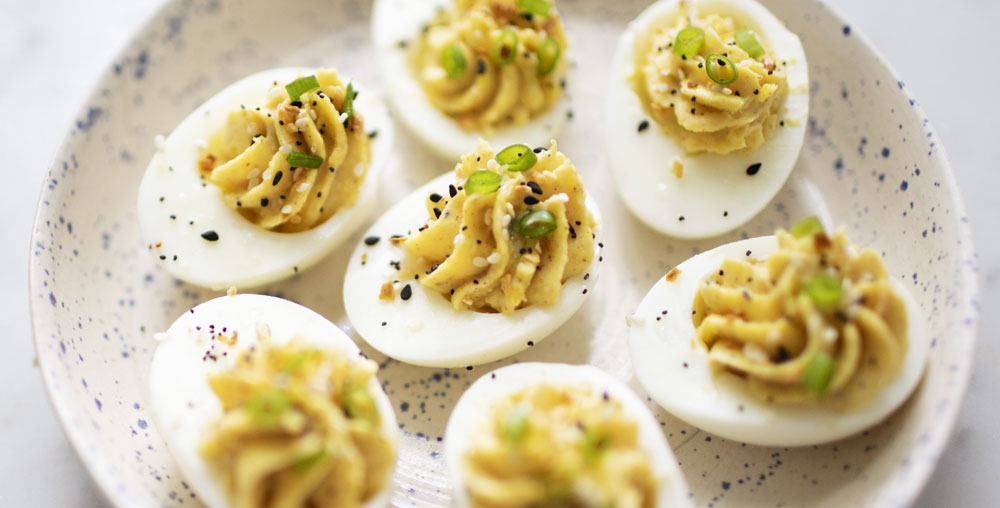 Forget the coffee shop, this eggsquisite recipe by our friend Modest Marce adds a devilish twist to your everything bagel obsession that you can make at home! Created with Conestoga Farms Hard Boiled & Peeled Eggs, plus tablespoons of other savoury ingredients, you won't want to go a summery weekend without these tasty bites.
Ingredients
6 Conestoga Farms Organic Eggs or 8 Conestoga Farms Free Run on the Run Peeled hard boiled eggs
3 tablespoons Mayonnaise
1 tablespoon Cream cheese
2 teaspoons Dijon mustard
½ teaspoon Sea salt, to taste
½ teaspoon Cracked black pepper, to taste
1 tablespoon Poppy seeds
1 tablespoon Black sesame seeds
1 tablespoon White sesame seeds
1 tablespoon Dried garlic, minced
1 tablespoon Dried onion, minced
1 tablespoon Flaked salt, to taste
1 tablespoon Green onions, thinly sliced to garnish
Instructions:
If using Conestoga Farms Organic eggs, hard boil then peel the eggs.
Cut the peeled, hard boiled eggs in half lengthwise.
Gently remove the yolks and place them into a medium size-mixing bowl. Transfer egg whites to a plate.
Mash yolks with a fork. stir in mayonnaise, cream cheese, Dijon mustard, salt and black pepper.
Transfer filling to a piping bag fitted with a star tip. Pipe mixture into egg white halves.
Combine poppy seeds, black sesame seeds, white sesame seeds, minced dried garlic, minced dried onion, flaked salt to make everything bagel seasoning and garnish with green onions.
Serve immediately or store in refrigerator covered.