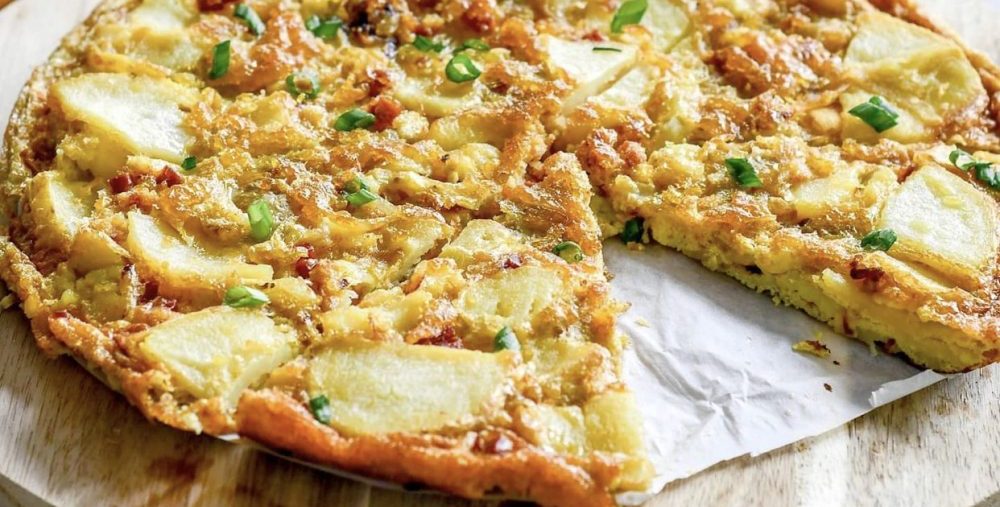 A simplified version of the traditional Spanish Tortilla. A a delicious one-pan dish using simple ingredients you can serve as breakfast, lunch, dinner or as a tapa.
Ingredients
 1 dozen Eggs we used Conestoga Farms Free-Range Eggs
2 large Yellow Potatoes sliced into thin half-moon shapes
1¼ cups Extra Virgin Olive Oil
1 large Yellow Cooking Onion Sliced thin length-wise
Coarse Mediterranean Salt to taste
1 tsp Paprika
2 tbsp Dry, cured Chorizo diced into small cubes; *Optional – leave out if you want to keep the dish meatless*
1 Spring Onion Green portion chopped for garnish
Instructions:
1. Heat the olive oil in your pan on med-high. Add your sliced potatoes, onion & a few pinches of salt, stir to coat the vegetables evenly with oil, then reduce the stovetop temperature to med-low. Cook until potatoes reach a softened texture and the onions are slightly browned and translucent, flipping the potato/onion combo frequently – approximately 15 minutes.

2. Once the potato & onions are cooked, remove the pan from the stove and very carefully drain the mixture in a stainless-steel colander with a bowl underneath to catch and reserve the oil in. Rinse your pan.

3. In a mixing bowl, whisk one dozen eggs with the paprika and a few pinches of salt. Warm your pan with some of the reserved olive oil (enough to lightly coat the bottom of the pan) on medium heat. Add the egg mixture then place your cooked potato/onion mixture on top, spacing evenly. Finally, sprinkle your diced chorizo over top and gently mix it in with a fork or spatula. Cook the omelette until the edges become firm and slightly golden. Set your oven to BROIL and place your skillet/pan with the par-cooked omelette on your middle oven rack. Cook the omelette through until the top is golden (approximately 5 minutes – watch carefully as oven heat strength will vary).

4. Remove the skillet/pan from the heat carefully with oven mitts on and let it cool to room temperature. Using a spatula, gently lift the Spanish omelette out of the pan and onto a serving board/platter. Garnish with diced green onion or your favourite greens (fresh chives, arugula, etc.). Slice into desired portions using a sharp knife or pizza-cutter. Serve as breakfast, brunch, lunch, dinner or as a tapa with other sides like olives, Spanish Manchego cheese, figs, fresh baguette or similar. Buen provecho! Tag us at @House_of_Kerrs if you try!