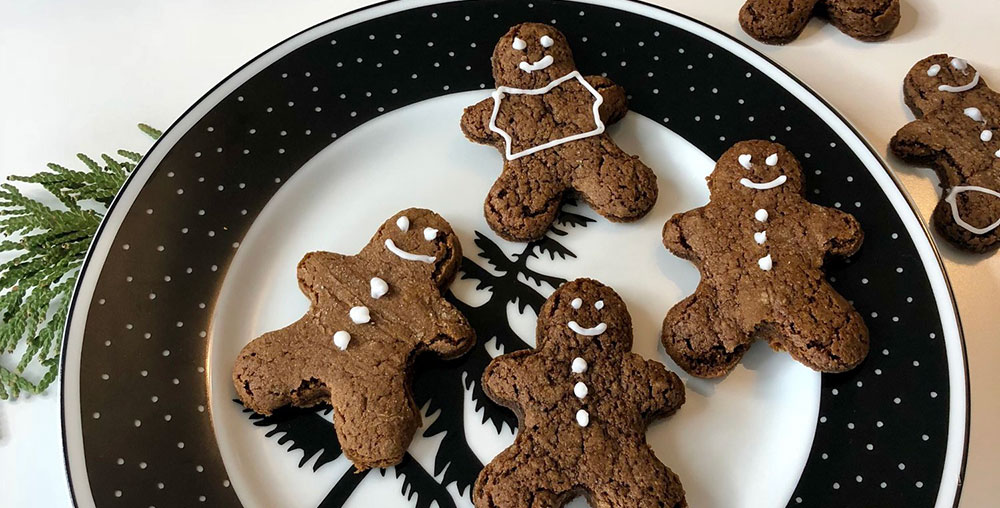 2 arms, 2 legs, and our Conestoga Farms Organic Eggs; start or continue a fun, tasty holiday baking tradition this season with @TheSoulfulSprout's Gluten Free Gingerbread People recipe! #NotMyGumdropButtons 
Makes : 24 Small Gingerbread People
Prep Time : 15 Minutes + minimum 3 Hours refrigeration
Cook Time : 10 Minutes
Ingredients
2 1/2 cups gluten free all purpose flour
1 cup almond flour
1 1/2 tsp baking soda
1 tsp ground ginger
1 tsp ceylon cinnamon
1/2 tsp ground cloves
1/2 cup coconut oil melted
1/2 cup organic coconut palm sugar
1 organic Conestoga Farms Jumbo egg
1 cup organic molasses
1/4 cup hot water
Instructions:
Preheat your oven to 350 degrees.
Add the coconut oil to your mixing bowl. Turn the mixer on low and add the egg, coconut palm sugar, and molasses and mix until well combined.
In a separate bowl, mix the flours, ginger, cinnamon, cloves, and baking soda. Slowly pour the dry mixture into the mixing bowl continuing to mix it on low for a minute. Turn it to medium low and slowly dribble the water into the bowl.
Spread a piece of plastic wrap on the counter. Remove the dough from the mixing bowl with a spatula – should be smooth but thick – and place it on the plastic wrap. Form the dough into a ball and then wrap the plastic wrap up so that it's tightly covered. Place the dough in the fridge for 3 hours or overnight.
Cut a piece of parchment paper the size of your baking sheet and lay it on your counter. Remove the dough from the refrigerator, unwrap it and place it on the parchment paper. Press down with your hands to flatten it a bit.
Place a new piece of plastic wrap on top of the dough and then roll to 1/4 thick with a rolling pin. Remove the plastic wrap, and use your gingerbread men cookie cutters to make your cookie shapes. Do not remove the edges yet.
Slide your baking sheet under the parchment paper and place it in the freezer for 5 minutes. Remove your baking sheet from the freezer and peel away the edges around the gluten free gingerbread men cookies. If you have a lot left over, you can form it into a ball, and start the rolling process over again on another piece of parchment paper.
Bake in the oven for 8-10 minutes, until firm but soft. Let cool completely and then decorate with your favourite gluten free icing and sprinkles.