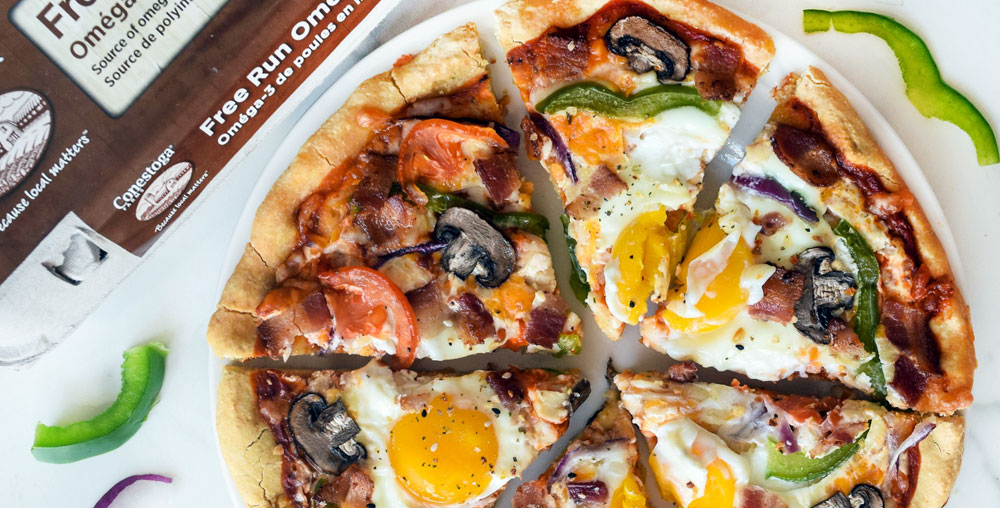 Created by Becka Crowe of Going Grainless comes a new Conestoga-inspired recipe that will be bacon your family crazy for more! Topped with sauce (or salsa), shredded cheese, green peppers, tomatoes, red onions, mushrooms, bacon and Conestoga Farms Free Run Omega-3 Eggs, this grain-free pizza pie is the perfect way to get essential nutrients from an otherwise perfectly guilty pleasure.
Makes: 1 Medium Pizza (2-3 Servings)
Prep time: 15 minutes
Cook time: 20-25 minutes
Ingredients
Crust Ingredients:
1 ½ cups Almond flour
1 cup Tapioca starch
½ tsp Baking soda
½ tsp Baking powder
Pinch of Salt
½ cup Water
Toppings:
1/4 cup pizza sauce or salsa
1/2 cup shredded cheese
3 Conestoga Farms Free Run Omega-3 Eggs
1/4 cup green pepper, chopped
1/4 cup tomato, chopped
2 tbsp red onion, chopped
4 mushrooms, sliced
3 slices bacon, cooked & chopped
Instructions:
Preheat oven to 400F. Line a baking sheet or stone with parchment paper.
In a mixing bowl, combine all the crust ingredients. The dough should be quite dry but if needed as an extra tablespoon of water.
Using your hands, form the dough into a round pizza crust. Grain free dough can be quite sticky so it works best if you lightly wet your hands to do this step. Place in the oven for 10 minutes and in the meantime prep all the topping ingredients.
Remove the crust from the oven and top with sauce and cheese, then crack all three eggs evening apart and top with the remaining ingredients.
Place back in the oven for 10-15 minutes until the eggs are cooked to your liking and the crust is crispy.
Let cool for 5 minutes, slice and enjoy!