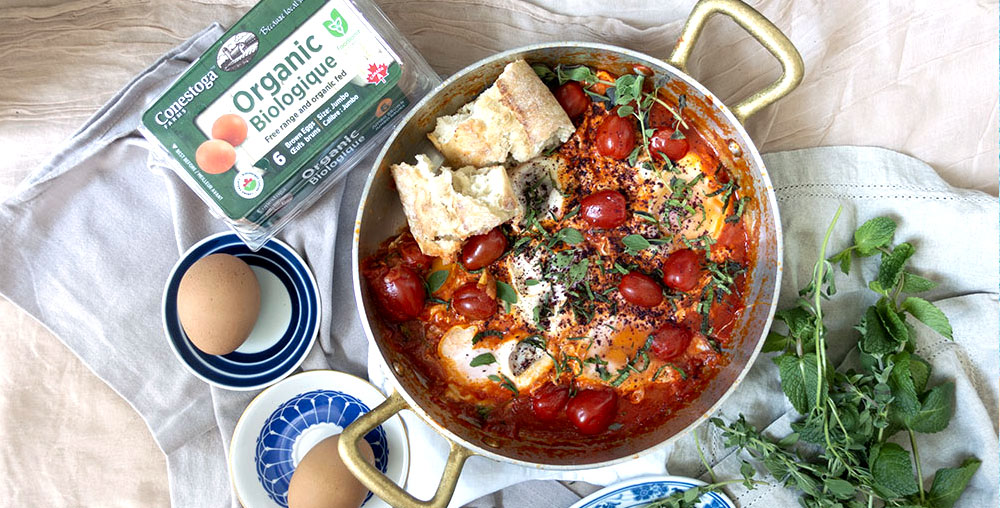 Grab your favourite fresh herbs and some Conestoga Farms Organic Eggs. We're carrying the summer heat into our delicious fall eats with this egg-cellent Eggs in Tomato Curry recipe, courtesy of the Spice Spoon.
Equipment: You will need a 9 to 10 inch skillet or sauté pan and a lid
Serves: 6
Print This Recipe
Ingredients
3 tbsp olive oil
1 tsp butter
2 large shallots, thinly sliced crosswise, into rings
4 garlic cloves, minced
¼ tsp turmeric
½ tsp cumin powder
½ tsp hot smoked paprika
½ tsp sea salt (or more, to taste)
3 cups tomato sauce
6 Conestoga Farms Organic Eggs
12-15 cherry tomatoes
1 tsp sumac
Mix of your favourite fresh herbs (mint, tarragon, coriander)
Instructions:
Place a skillet or sauté pan over medium heat.
Add olive oil and butter, and when glistening, add shallots and sauté till golden and softened; about 3-5 minutes.
Add garlic and continue to sauté till slightly golden. Sprinkle turmeric on top of shallots and garlic and stir till they are yellow and well coated.
Add in cumin powder, hot smoked paprika and sea salt. Pour in tomato sauce; as soon as it starts to bubble, cover with a lid, reduce heat, and allow to simmer for 5-7 minutes. Remove lid and taste for salt.
Crack eggs, one by one and gently pour into the tomato sauce (don't worry if the yolks of some of them crack, it will still be delicious).
Try to get them all in as quickly as possible, so they cook for the same amount of time.
Dot with cherry tomatoes, cover with lid, and allow to simmer for 5-7 minutes, or until the whites of the eggs are opaque.
Take off the heat and sprinkle with sumac.
Adorn with your favourite herbs and enjoy with crusty sourdough bread.