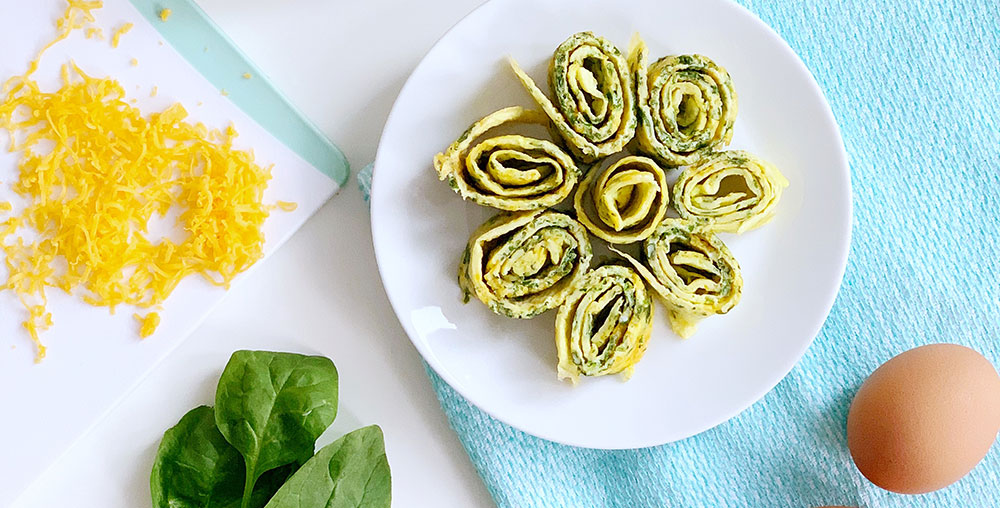 Courtesy of our friend at Little Lunch Love, stay on a roll any day of the week while still satisfying your appetite with these tasty, storable Spinach and Cheese Omelette Roll-ups – Made with Conestoga Farms Free Range Eggs.
Print This Recipe
Ingredients
2 Conestoga Farms Free Range Eggs
1 tsp Water
¼ cup Spinach leaves, finely chopped
2 tbsp Shredded cheddar cheese
Salt & pepper to taste (optional)
Instructions:
Whisk eggs and water together in a medium bowl until well blended.
Next, stir in the baby spinach and cheddar cheese. Season with salt and pepper.
Heat 1 tablespoon of butter in a large non-stick skillet over medium heat. Pour in the egg mixture and cook until eggs begin to set. Flip with a spatula, and continue cooking 2-3 minutes or until eggs are fully cooked.
Transfer omelette to a cutting board and let cool for 2-3 minutes. Then roll omelet tightly into a cylinder shape and cut into bite size pieces. 
Pack immediately in a lunch box and store in the refrigerator until you're ready to send it to school.
Tip: Omelette roll-ups can be stored in the refrigerator for 2-3 days.