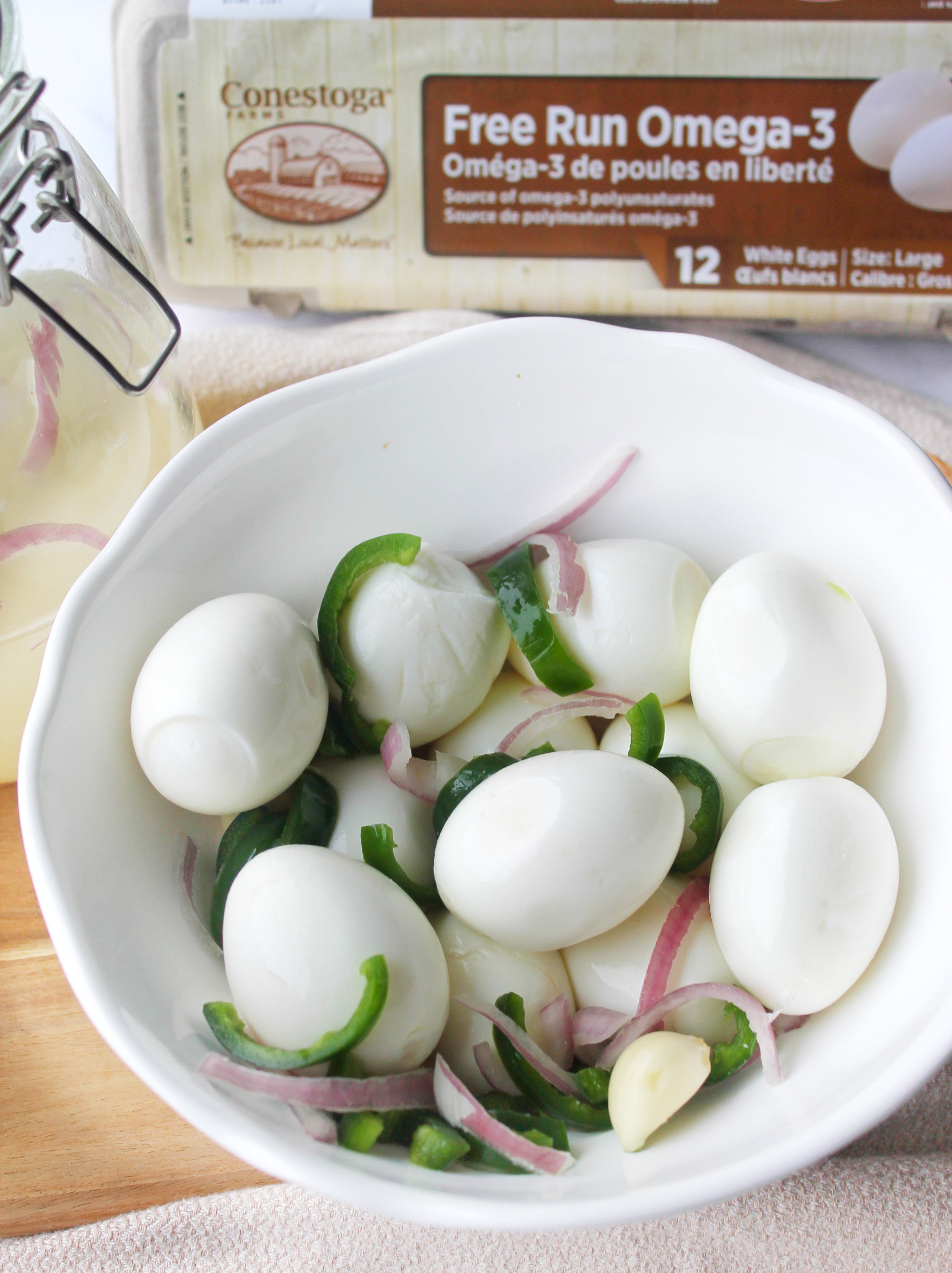 These spicy fermented eggs are a great way to increase the flavour of hardboiled eggs. Along with incredible flavour, these eggs are fermented to give probiotic benefits for a healthy gut.  
Yield: 2 Servings
Ingredients
 1 jalapeno, seeds removed and sliced 
 ¼ cup red onion, sliced 
3 garlic cloves, peeled 
1/4 cup sauerkraut juice 
1 tbs. sea salt 
 3 cups filtered water 
Instructions:
Begin my filling a medium sized pot with water and brining to a boil.   
 Gently place the 12 Conestoga Free Run Omega-3 White Eggs into the pot and allow to boil for 10 minutes.  
 Once cooked, remove from the heat and drain the water. Place the eggs into cold water for 10 minutes for easier peeling. While the eggs are resting in the cold water, begin slicing the jalapeno and red onion. Place in a large sterilized wide mouth jar along with three peeled garlic cloves.  
 Peel the shells off of the eggs and place the eggs into the jar. In a glass bowl, combine sauerkraut juice, sea salt and water. Mix with a wooden spoon until the salt has dissolved to create a brine.  
Pour the brine overtop of the eggs. Use a fermentation weight to sit on top of the eggs to keep them fully submerged under the water. If you do not have a fermentation weight, make sure the vegetables are kept at the bottom and held down by the eggs.  
Close the lid and place on the counter out of direct sunlight for 3 days. After 3 days, the eggs should have a fermented smell and the water should be slightly cloudy. This means they are ready to eat! Place the jar in the fridge and keep for up to 14 days.