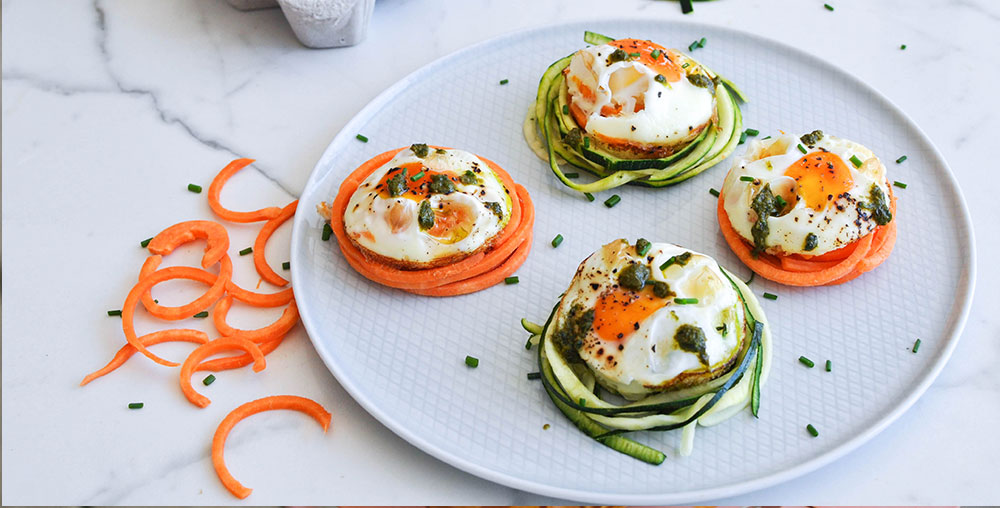 These Pesto Veggie Egg Nests require minimal effort but pack a ton of flavour. They're light for summer, use fresh and seasonal ingredients, and of course, gluten-free! You can whip them up for brunch, or make in advance to pack for a picnic!
Ingredients
1 tbsp olive oil, separated
1 cup zucchini noodles
1 cup sweet potato noodles
3 tbsp pesto
salt & pepper, to taste
Instructions:
Preheat oven to 350F. Grease a muffin tin with some coconut or olive oil. In two small bowls, toss the zucchini or sweet potato noodles with ½ a tablespoon of olive oil and season with some salt and pepper.
Fill each tin halfway with veggie noodles, keep separate or mix if you wish. Add a small amount of pesto, then crack one egg on top and season with salt and pepper.
Place in oven for 12-15 minutes, or until yolk is cooked through.
Serve warm or pack in container for epic summertime picnic!