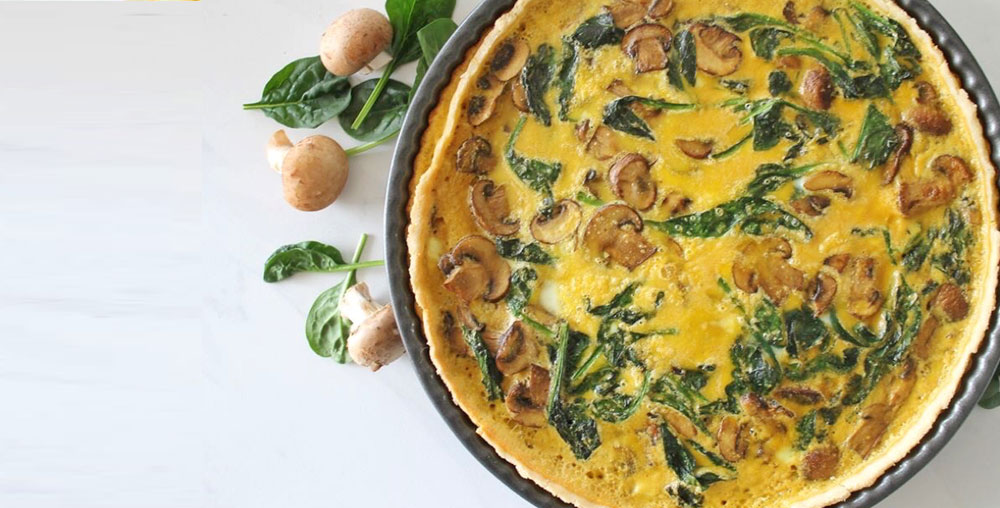 Are there mushrooms and spinach in your fridge right now? Grab four pairs of our Free Run Omega-3 Eggs and make anytime quiche time! Complete with vitamins, lutein and a no-grain experience, this Spinach and Mushroom Quiche from Reclaimed Health by Jayde will inspire you to be back in love with your veggie crisper in no time.
Print This Recipe
Ingredients
Crust
1 ½ cups almond flour
½ cup tapioca starch
¼ tsp salt
1 tsp baking powder
1 tbsp ghee or coconut oil, solid form
6 tbsp cold water
Filling
1 cup cremini mushrooms, sliced
1 cup spinach
8 Conestoga Free Run Omega-3 Eggs
1 tbsp garlic powder
2 tbsp nutritional yeast (optional)
½ tsp sea salt
½ cup almond or coconut milk
½ tsp oil for frying
Instructions:
For the Crust: Combine the almond flour, tapioca starch, baking powder and salt together in a bowl. Mix until well combined. Add the ghee or coconut oil and mix with your hands and combine until you have a coarse crumble. Add a tablespoon of cold water, one at a time, until you have a firm dough that will hold together. Roll the dough into one large ball. Place onto a sheet of parchment paper. Place the second piece of parchment paper over the dough. Use a rolling pin or your hand to flatten out the dough to fit your 9" pie dish. Place the dough carefully into the dish and push down on the sides. Bake in the oven at 350 degrees for 10 minutes.
For the Filling: In a large pan, heat oil on medium heat and sauté the mushrooms for 5 minutes. Add in the spinach and sauté for another minute. In a medium-sized bowl, whisk the 8 Conestoga Farms eggs with the almond milk. Next, add in the nutritional yeast, garlic, and salt. Add the mushrooms and spinach mixture to the eggs. Pour the filling into the crust and bake for an additional 20 minutes or until fully cooked and serve.