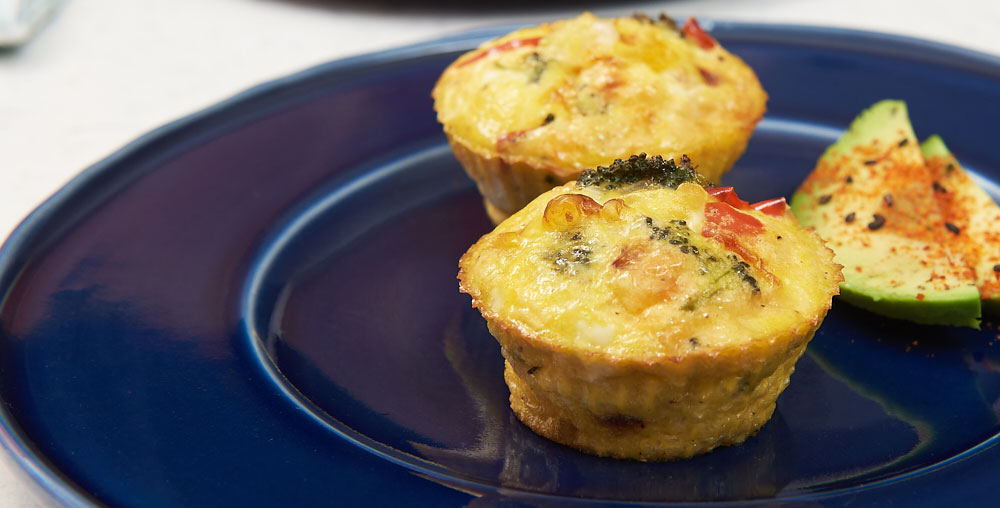 These protein and veggie-packed breakfast muffins are the perfect fuel to start the day. Made with real whole food ingredients and surprisingly simple to make, they are an absolute game-changer when it comes to having a healthy breakfast that takes very little time, because you can make ahead of time and reheat for busy mornings. Egg-cellent served with your favourite hot sauce and some sliced avocado for extra good fats power.
Serves: 12
Ingredients
1 cup broccoli, cut into small florets
1 cup red pepper, diced
1 cup yellow pepper, diced
½ sweet onion, diced
1 clove garlic, minced
2 tbsp olive oil
9 Conestoga Farms Free Run Omega-3 Eggs, whisked
½ cup Parmigiano Reggiano, grated
¼ cup whole milk
½ tsp salt and freshly ground pepper to taste
Instructions:
Preheat the oven to 400 degrees F. Line a baking sheet with parchment paper or foil (grease if using foil).
In a large bowl, toss together the broccoli, red pepper, yellow pepper, minced garlic, and olive oil.
Arrange the vegetables in a single layer on the baking sheet. Roast in the preheated oven for 15-20 minutes, until the edges of the broccoli are browned.
Line 12 muffin cups with silicone or parchment muffin liners.
When the veggies are done, remove from oven but keep oven on. Divide vegetable mixture between the 12 muffin cups.
Whisk together eggs, milk, cheese, salt and pepper. Pour the egg mixture over the veggies and bake for 15-20 minutes until the eggs are set.