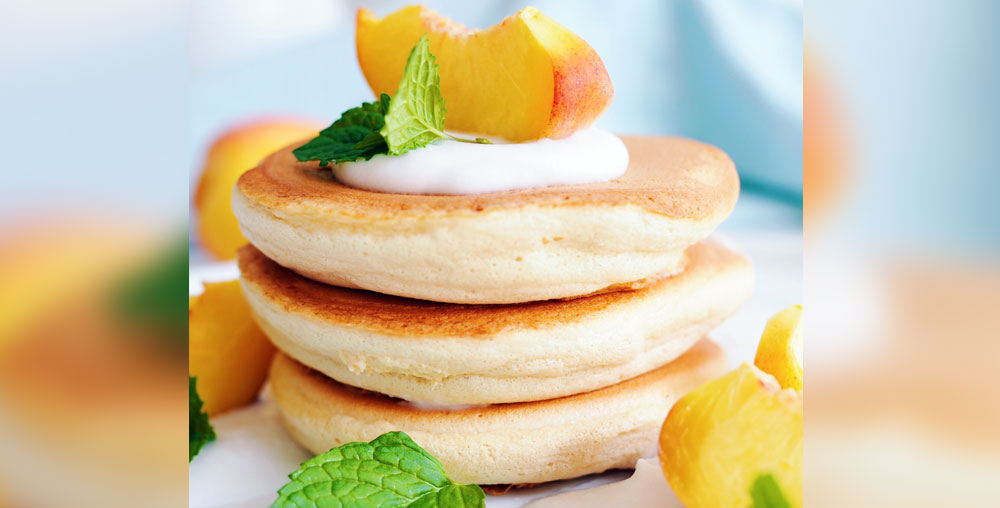 Start your morning with the fluffy, creamy goodness of Christie At Home's Fluffy Japanese Pancakes, complete with a homemade Coconut Cream. Made from Conestoga Farms Free Range Eggs, these tasty cakes go great with peach slices and a touch of mint!
Yield: 6 Servings
Total Time: 30-35 Minutes
Print This Recipe
Ingredients
Fluffy Japanese Pancakes
4 Free-Range Conestoga Farms egg yolks
2 tbsp Oat milk
2 tsp Vanilla
8 tbsp All-purpose flour
1 tsp All-purpose flour
1 tsp Baking powder
4 Free-Range Conestoga Farms egg whites
3 1/3 tbsp Cane sugar
1 tsp Avocado oil, for cooking
Coconut Cream:
Fat portion from 500ml can of coconut milk, do not use the liquids
¼ cup Vegan icing sugar
Toppings:
1 Peach, sliced
5 Mint leaves
Instructions:
In a mixing bowl, add coconut fat and icing sugar. Whisk with a hand mixer at a high speed for 5 minutes until thick. Refrigerate.
In another mixing bowl, whisk the egg yolks until broken. Whisk in oat milk. Followed by vanilla extract until well combined. Sift in all-purpose flour and baking powder and whisk well.
In another large mixing bowl, add egg whites. Whisk at a high speed with hand mixer. Gradually add about 1 tsp of cane sugar to the egg whites, whisk again. Repeat process until there is no sugar left and stiff peaks have formed.
Gently whisk meringue into the egg yolk mixture. Whisk mixture 5-6 times. Then softly fold with a spatula until combined. Do not over stimulate the batter.
In a non-stick griddle set on low heat, lightly grease with avocado oil. Once griddle is hot, ladle about 1/4 cup of pancake mixture. To the same, pancake add another 1/4 cup of the mixture on top to add height to pancake.
Spoon 1 teaspoon of water in empty surrounding spaces of griddle. Cover with a lid. Cook pancakes for 5-6 minutes on each side until golden brown. Serve with whipped coconut cream, peaches and mint.
Tip: To test if meringue is stiff enough, dip whisk into the meringue and lift it out of the bowl. If meringue does not drip, it is stiff enough. This is important to creating soft fluffy pancakes.