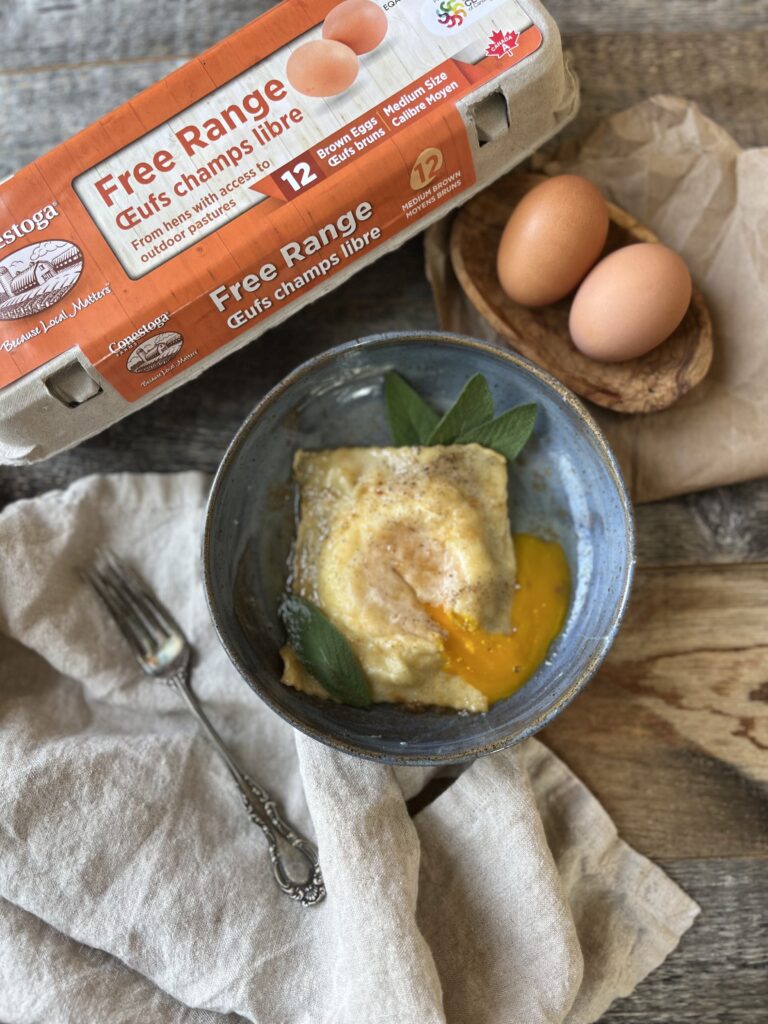 The bright orange yolks from these free range eggs will be so beautiful as each ravioli is cut open. Enjoy this Italian treat today! 
Yield: 6 servings 
Ingredients
Pasta: 
400g flour (you can use 300 grams regular flour and 100 grams semolina) 
Filling: 
1 container (400g) ricotta cheese 
1/4 c grated asiago or parmesan, plus a bit more for finishing the plate 
1 tsp each salt and pepper 
6 Conestoga Free Range eggs, separated 
To finish: 
1/4 c butter 
truffle oil (just a bit to drizzle on top…optional as always, but yummy, as always!) 
Sage for garnish 
Instructions:
 Get all of your ingredients together and put on a (shallow) pot of water on your stovetop.  Separate your Conestoga Farms Free Range Eggs and keep yolks in separate plates to make it easier to insert them into your ravioli.  Be gentle as you need to keep them intact. 
  Prepare you paste dough by placing the flour on your counter and making a well in the centre; add the eggs to the well and mix, adding flour from the 'wall' a bit at a time until is all incorporated. Wrap and place in the fridge for 30 minutes to firm up.
In a bowl, mix together ricotta, grated cheese, salt and pepper and 3 egg whites (keep the remaining whites in your fridge for another use).
 On a floured board, separate the dough into 4 pieces and, working with one piece at a time, run it through a well-floured pasta machine until it is rolled to the second thinnest setting. Place each pasta strip on a well-floured surface and cut into squares. Place 2 tbsp of ricotta filling onto each piece of dough and make an indent.  Slide a yolk onto each cheese dollop.
 Meanwhile, you can brown your butter – over medium high heat, cook butter until it begins to brown but watch that it doesn't burn.  Also, bring your water to a boil and salt your pasta water.
 Using some of the leftover egg whites (or even water), brush the edges of the ravioli with egg white/water and then place another piece of dough on top, making sure to push out as much air as possible but ensuring you haven't  squeezed out any of the ricotta (that will make it difficult to seal); make sure you press down to tightly seal the dough.
 Carefully place/slide the ravioli into the pot of boiling water and cook for a few minutes.  Turn the ravioli over (yolk side down) and cook for an additional 30 seconds) or simply push some of the boiling water over the top of the ravioli as it cooks.
 Using a slotted spoon, slide the ravioli into the browned butter, using a spoon to drape some of the browned butter on top of the ravioli;  cook for just one minute.
 Place on a plate and top with a few shavings of parmesan if desired, then top with a good grating of freshly ground pepper and a drizzle of truffle oil if using.
NOTE: This makes 6 large ravioli with some leftover pasta (which you could cut into long strips and freeze or another meal